Ange Postecoglou : Le garçon de Grèce qui est devenu l'homme principal du Celtic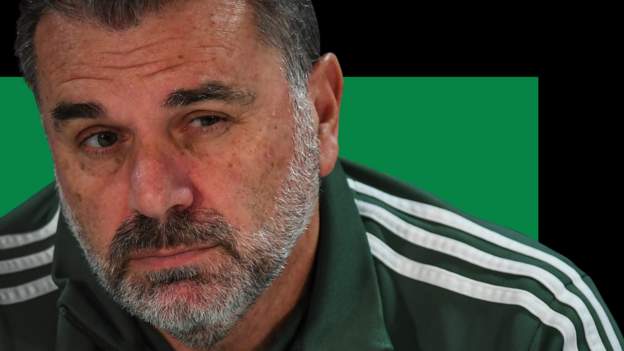 On pourrait dire que la photo la plus saisissante d'Ange Postecoglou n'est pas quelque chose prise sur le côté d'un terrain de football avec le Celtic, pas une photo de lui célébrant son premier ou son deuxième titre de Premiership écossaise, ou sa première ou sa deuxième Coupe de la Ligue écossaise. titre.
Rien, vraiment, de ses journées réussies à Yokohama Marinos ou Brisbane Roar ou les Socceroos ou South Melbourne Hellas ne peut tenir une bougie à la photographie prise de lui à cinq ans tenant une carte avec le numéro 24 dessus.
C'était son numéro d'immigration lorsque ses parents l'ont emmené hors du régime de la junte militaire d'Athènes, en Grèce, vers un refuge plus sûr mais incertain de Melbourne en Australie. C'est là que tout a commencé. C'est pourquoi la photographie a un caractère poignant.
Le petit garçon regarde l'objectif de la caméra avec le même genre de regard qui, des années plus tard, en tant qu'entraîneur de l'Australie, brûlait régulièrement un trou à l'arrière de la tête de ses joueurs à l'entraînement, a déclaré l'ancien Socceroo Tim Cahill.
Son ami, Paul Trimboli, a déclaré que Postecoglou ne disait pas grand-chose, qu'il ne rendait pas les choses confortables pour les gens, et pour beaucoup de gens "cela peut être déconcertant".
Même à cinq ans, vous pouvez voir une partie de cela sur la photo. Un look d'acier. Depuis que les fans du Celtic l'ont découvert, ils se sont beaucoup amusés avec ce que signifie le 24.
"Le petit homme nous dit combien de fois de suite il va gagner."
"Il dit combien de managers des Rangers il va voir."
C'était Angelos Postecoglou. Cinq ans plus tard, ses parents ont légalement changé son nom en Angelos Postekos, mais il ne s'est jamais soucié de Postekos.
"C'était une mode à l'époque d'abréger votre nom si vous étiez grec", a-t-il déclaré il y a des années. "Je ne l'ai jamais aimé et je ne l'ai jamais utilisé. J'étais fier de mon parcours, mais quand il s'agissait de mon premier passeport et de mon premier permis de conduire, je ne pouvais rien y faire."

Le dimanche, Postecoglou a remporté son deuxième titre consécutif en Premiership avec le Celtic et un quatrième trophée national sur cinq possibles depuis son déménagement en Écosse depuis le Japon à l'été 2021.
À moins que le miracle du football ne mette fin à tous les miracles du football, il gagnera un cinquième sur six lorsque le Celtic affrontera Inverness Caledonian Thistle lors de la finale de la Coupe d'Écosse le mois prochain.
Un manager celtique qui remporte de nombreux titres n'est pas nouveau, mais il y a quelque chose de différent à ce sujet.
Postecoglou n'a pas hérité d'une équipe championne nécessitant des ajustements mineurs comme, disons, Brendan Rodgers l'avait fait avant lui. La saison avant que Postecoglou ne prenne le relais, le club a perdu sa candidature pour 10 titres de champion d'affilée par 25 points et la musique d'ambiance au Celtic était lamentable.
Les Rangers les avaient éliminés de la Coupe d'Écosse, le comté de Ross les avait éliminés de la Coupe de la Ligue, il y avait des protestations furieuses et des banderoles appelant à faire tomber les têtes. L'atmosphère était toxique. Des légions de fans ont parlé de leur désillusion. Ils avaient l'impression d'être pris pour acquis et ignorés.
Le manager Neil Lennon a été limogé. Peter Lawwell, le directeur général de longue date, a signalé son intention de démissionner. Il a été remplacé par Dominic McKay, qui a duré deux mois puis est parti pour des raisons inexpliquées.
Pendant très longtemps, le club a courtisé Eddie Howe. Ils ont attendu et attendu qu'il accepte de devenir leur prochain manager, mais des mois plus tard, il a dit non. Cue plus de tonnerre de supporters.
Plus de 100 jours s'étaient écoulés et le Celtic n'avait toujours pas de manager. Les ventilateurs étaient en mode thermonucléaire. Une refonte totale d'une équipe fatiguée s'imposait – et rapidement. Le Celtic avait besoin d'une toute nouvelle équipe.
Entrez Postecoglou avec sa concentration calme et son œil infaillible pour un joueur. Et très vite, les choses ont pris un sens.

Au cours de la dernière année environ, neuf clubs de Premier League ont été «liés» à un intérêt pour Postecoglou. La quantité de cela était authentique et la quantité de fumée n'est pas claire, mais on parle de l'Australien.
De plus en plus de gens regardent ce qu'il a fait – les excellentes signatures, le style offensif, la nature implacable de son équipe et son sang-froid dans le maelström du football de Glasgow – mais les choses vraiment intéressantes, l'âme du gars, peuvent être trouvées dans son histoire.
Il pourrait gagner n'importe quel nombre de triplés avec le Celtic, mais rien ne correspondra à l'histoire de la façon dont il est arrivé au club en premier lieu.
"Je n'arrive pas à croire ce que mes parents ont vécu", a-t-il dit un jour. "Ce qu'ils auraient vécu pour emmener une jeune famille à l'autre bout du monde, sur un bateau qui nous emmène 30 jours, dans un pays dont ils ne parlent pas la langue, ils ne connaissent personne, ils ne connaissent pas ont une maison, ils n'ont pas de travail.
"Les gens disent qu'ils vont dans un autre pays pour une vie meilleure. Mes parents n'avaient pas une vie meilleure, ils sont allés en Australie pour m'offrir des opportunités d'avoir une vie meilleure."
Sa sœur, Liz, a cinq ans de plus et se souvient des premiers mois à Melbourne. "Ils sont arrivés ici avec juste des valises, devant s'occuper de deux petits enfants", se souvient-elle dans le documentaire Age of Ange. "C'était difficile pour elle [Voula, her mother]. Je me souviens de nombreuses nuits où je l'ai entendue pleurer."
Le père de Postecoglou – Dimitris, connu sous le nom de Jim – était un travailleur acharné. Lever tôt, rentrer tard, pas de bêtises. Le football était son échappatoire et son salut.
Le dimanche, il emmenait son fils au South Melbourne Hellas, un club créé pour les immigrés grecs. Il y avait l'église le matin et le football l'après-midi. C'était le rythme de la vie.
"Enfant, je voulais juste m'intégrer, je n'aimais pas nécessairement le fait que je venais d'un autre pays et que j'avais un nom de famille très long que personne ne pouvait comprendre. Pour un jeune garçon, la meilleure façon de s'intégrer était sport », se souvient Postecoglou.
Le football n'était pas seulement un jeu à jouer, c'était sa seule occasion de créer des liens avec son père, son héros, comme il l'a décrit.
Dans ce documentaire, il a vu feuilleter ses vieilles bandes dessinées et ses livres. "C'est pourquoi je les garde. Cela me rappelle à quoi ressemblait mon enfance. Il y avait beaucoup de vie dans un monde de football fantastique qui n'existait pas ici en Australie."

Il y a des images de ses jours de football où il s'appelle Angelos, Angie puis Ange.
Il a pris sa retraite à 27 ans sur blessure. Il a remporté le championnat national australien (le grand Ferenc Puskas était son manager) mais a toujours su dans ses os que le coaching était là où était son avenir.
Il y avait une crainte, cependant. Et cela remonte à nouveau à son père. Et s'il n'était pas devenu entraîneur ? Et s'il échouait ? C'était son intermédiaire avec son père. « Qu'est-ce que cela signifierait pour papa et moi ? Comment comblerions-nous le vide ? »
Il n'a pas besoin de stresser. Il a remporté deux championnats nationaux en tant que manager de South Melbourne alors que tout le monde disait qu'il ne pouvait pas.
Jim l'a rarement dit en face – un homme de la vieille école réticent à montrer beaucoup d'émotion – mais il a dit à ses amis à quel point son garçon le rendait fier. La parole est revenue. C'était assez.
Il a été entraîneur au niveau national des moins d'âge, mais c'était presque la fin de lui. Il a été limogé, a dû se rendre au troisième niveau grec pour trouver du travail, puis est revenu en Australie, pour rien. C'était une époque effrayante.
Avec sa femme, Georgia, il a emménagé chez sa belle-mère pendant six à huit mois pour s'en sortir. Vous le regardez célébrer maintenant avec sa femme et ses fils et vous savez qu'il est passé par le moulin pour arriver là où il est aujourd'hui.
Brisbane Roar l'a engagé en 2009 et il a créé ce que certains observateurs chevronnés considèrent comme la meilleure équipe de club de l'histoire du football australien. Football rapide et furieux, sans arrêt. Cette philosophie n'a pas commencé à Glasgow en 2021.
Il a remporté la ligue en 2011 et 2012, est allé à Melbourne Victory puis aux Socceroos, a vu son équipe participer à la Coupe du monde en 2014, a remporté la Coupe d'Asie en 2015, a reconstruit l'équipe et les a fait participer à une autre Coupe du monde en 2018.
Le Japon a fait signe. Non seulement il a remporté la J-League avec Yokohama Marinos, mais il a également absorbé toutes les connaissances du monde sur un marché qui s'avérerait extrêmement utile dans son prochain emploi – Celtic.
Il est décédé maintenant, mais Jim Postecoglou est et sera toujours la clé de son fils.
"La racine et le fondement de qui je suis ne sont plus à mes côtés", a écrit le patron du Celtic dans Athletes Voice. "Où est le but maintenant ? Sa voix est dans ma tête. La flamme qu'il a allumée est toujours là. Je dois continuer à honorer ses sacrifices."
Aussi intéressant qu'il soit d'entendre ses réflexions chaque semaine sur les joueurs et les jeux, Postecoglou n'est jamais plus convaincant que lorsqu'il parle des choses qui l'ont façonné.
"Je comprends ce qu'est une journée de travail honnête", a-t-il déclaré peu de temps après être devenu entraîneur du Celtic.
"Je comprends ce qu'est le sacrifice, je comprends ce que signifie être dans une position privilégiée comme je le suis maintenant.
"Je ne vais pas tenir cela pour acquis parce que je sais à quel point ma mère et mon père ont travaillé dur. Ils ont sacrifié toute leur vie pour que je sois ici.
"Je n'ai pas l'impression de travailler tous les jours, j'ai l'impression de vivre un rêve qui a été fondé par le sacrifice des autres, en particulier de mes parents."
C'est profond et c'est puissant et le travail de Postecoglou l'a amené à un doublé la saison dernière, probablement un triplé cette saison et qui sait quoi d'autre dans le temps qu'il lui reste à Glasgow. Son histoire continue.
Nick Pope: Newcastle United goalkeeper suffers suspected dislocated shoulder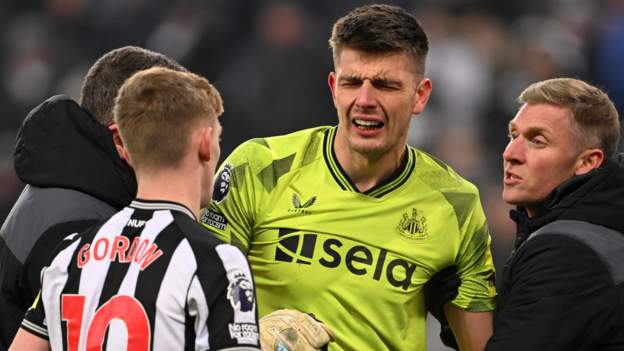 Newcastle United and England goalkeeper Nick Pope suffered a suspected dislocated shoulder during the 1-0 win over Manchester United on Saturday.
The 31-year-old injured himself diving for a shot during the second half and had to be replaced by Martin Dubravka.
He joins an already substantial Magpies injury list, with striker Callum Wilson and defender Dan Burn among those out.
"I don't know what the future holds for Nick, whether he'll need an operation or not," Howe told BBC Sport.
"It looks bad. It looks like a dislocation of his shoulder, which he has done before. He had it operated on and came back successfully.
"We'll get it checked out and fingers crossed he's back soon."
Pope has made 62 appearances since joining Newcastle from Burnley in the summer of 2022, playing in all 14 of their Premier League games so far this season.
"It will be a massive blow for us if he is ruled out for any length of time," Howe added on TNT Sports. "It looked really innocuous, but that is usually the way and they are normally the more serious ones.
"You could see he was in distress and it looked like he dislocated his shoulder just diving."