Découvrez les coulisses de Wembley avant la finale de la FA Cup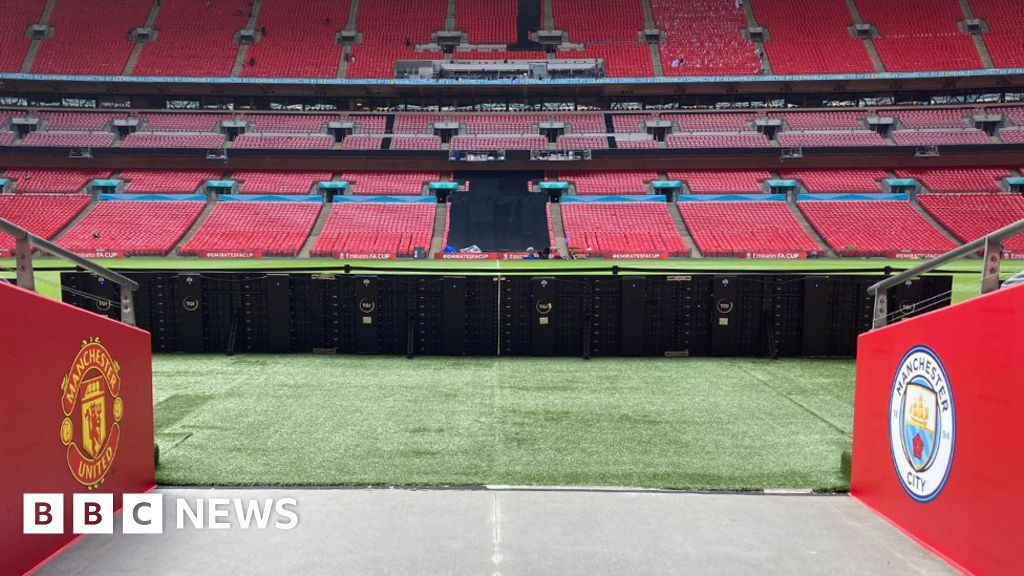 Jetez un œil dans les coulisses de Wembley avant la toute première finale de la FA Cup 100 % Manchester.
Roger Johnson de la BBC s'est promené dans les vestiaires et les zones d'exercice de la marque de l'équipe – ainsi que pour visionner des messages de fans inspirants et des reportages photo.
Le stade sera rempli de 90 000 fans pour le match historique qui verra Manchester City chercher à rester sur la bonne voie pour le triplé et United poursuivre un doublé en coupe nationale – tout en cherchant à protéger leur record de victoire en triplé en 1999.
Pourquoi ne pas suivre BBC North West sur Facebook, Twitter et Instagram? Vous pouvez également envoyer des idées d'articles à nord-ouest.newsonline@bbc.co.uk
Aston Villa: How WSL club are using transfer market to try to close gap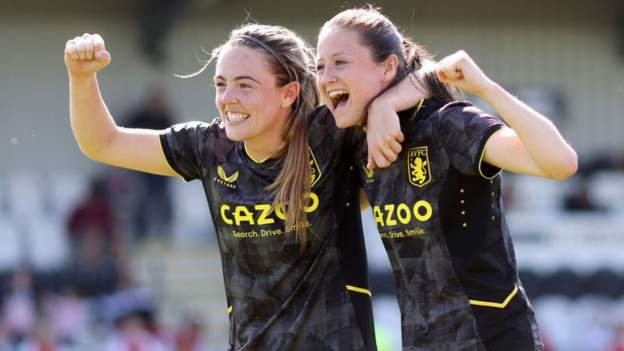 Aston Villa may only be three years into their Women's Super League journey but they are already intent on closing the gap to the top four – and they are using the transfer market to do it.
Arsenal, Chelsea, Manchester City and Manchester United have been the dominant teams in the WSL for several years but Villa, finishing fifth last season, have plans to change that.
BBC Sport takes a look at how Villa, who host United in their season opener on Sunday (12:30 BST), have successfully climbed their way up the table.
'My job is managing people'
Manager Carla Ward joined the club from rivals Birmingham City in 2021 and has taken the team on an upward trajectory since.
Alongside the club's head of women's football, Lee Billiard, Ward set out a three-year plan which centred around recruitment and a style of play.
A key part of Ward's philosophy was making each player feel valued and she did that by connecting with them on a personal level.
"I always go back to that human element. If you ask any of the players, like Jordan Nobbs, I know why she signed and what her reasons are," Ward said.
"They are not just footballers, they are people. I'm a far better manager than I am a football coach. I have coaches who can coach very well. My job is managing people."
Having achieved what they had set out to do a year earlier than planned, Ward admits there is a new challenge this season which they have not yet faced – a target on their backs.
"We finished as the best of the rest, which is what everyone wants," Ward said. "We know it comes with it. But the expectation from within is far greater than those on the outside and that's the reality.
"[The squad] are all ambitious and always want to be better. We won't be resting on the fact we finished fifth. The success last year wasn't just a Leicester City winning the Premier League moment. It was a long three years of work and continuing to build in every transfer window.
"In each window we've replaced players going out of the door with ones pushing to play in the starting XI. That's really important in terms of our strategy. We had a very clear plan and we are well on track with it.
"It's why I never want to get carried away because we are on a journey and if we can continue to develop then of course, top four, sooner or later, will be in sight."
'We always have a plan A, B and C'
Villa have made some big signings in recent windows, including last season's Golden Boot winner and Player of the Year Rachel Daly.
The Euro 2022 winner has been joined by Scotland winger Kirsty Hanson, England midfielder Jordan Nobbs and defender Lucy Parker, and Netherlands goalkeeper Daphne van Domselaar.
"I'm quite picky and I know what I want in football. It's important we went after them," said Ward. "We got offered a lot of players after finishing in the top five but we can't just take good players.
"We have to take players that fit into the way we play, our values and our principles. They also need to be the right person for our dressing room. That's bigger than anything."
Part of Villa's recruitment strategy is to create 'bands' of players. That means they identify players to sign who are intended to improve the starting XI, others who can compete for a place and others who will provide squad depth.
"We know from now who we have [who have contracts] running out this summer, next summer and the summer after that," added Ward.
"There are different types of players and bands. We then know that if a certain player's contract is running out, when we can start negotiating and who we need to get in as replacements if [those contract negotiations] don't happen.
"We always have a plan A, B and C. For example, Daphne van Domselaar was done at Christmas. Everyone who came in this summer, we were on track to do either last summer or in January. We were very clear what we were going after."
'People were asking silly money for players'
Not just recruiting talent, but retaining talent, has been key to Villa's success since earning promotion to the WSL in 2020.
Only one high-profile player left the club this summer, with England goalkeeper Hannah Hampton joining Chelsea – but Villa replaced her with Van Domselaar.
They kept successful loanees Hanson and Anna Patten, while renewing contracts for regular starters Kenza Dali, Alisha Lehmann and Maz Pacheco.
"One of the things on my initial presentation to the board was to reduce the turnover of players," said Ward.
"The players we have in the building now, there's not many whose contract runs out next summer. If you look at our starting XI from last year – 90% of the games we had a similar team – all of those players bar Hampton are still here and that's important.
"Now those players have competition [for places] which we didn't have last year. If your strategy is water-tight and aligns with what you're trying to do, you shouldn't be in a position where you're going after nine or 10 players."
The WSL transfer market has changed rapidly in recent seasons with top clubs willing to spend large sums of money on the world's best players, while longer-term contracts are now being offered.
"[The transfer market] is wild. One transfer of Bethany England going for £250,000 [from Chelsea to Tottenham in January] has inflated everyone's prices," Ward added.
"People were asking silly money for players which was utterly ridiculous. You have to make sure you grow alongside the inflation in the game otherwise we will crash."