Everton points deduction to be heard in Parliament with early day motion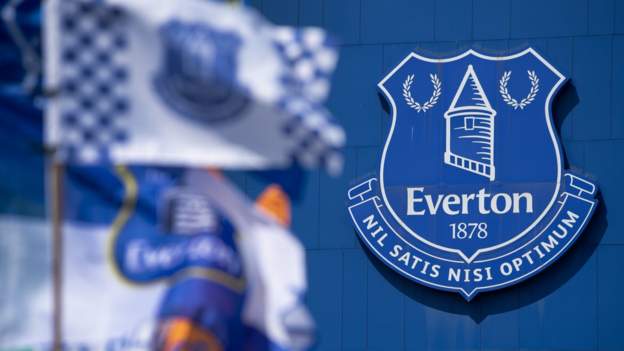 Everton's 10-point deduction by the Premier League will be discussed in Parliament after a Liverpool MP called the punishment "grossly unfair".
Ian Byrne, Labour MP for West Derby, has tabled an early day motion (EDM) in the House of Commons which will be laid on Tuesday for other MPs to support.
Everton received the sanction on Friday after being found to have breached the Premier League's financial rules.
Byrne also called to "immediately establish" an independent regulator.
In February, the government announced plans to appoint a regulator, following a fan-led review last year.
Plans for the regulator were outlined in the King's Speech this month.
King Charles III said the Football Governance Bill, which will introduce a regulator, will "safeguard the future of football clubs for the benefit of communities and fans".
English top-flight clubs are permitted to lose £105m over three years, and an independent commission found Everton's losses to 2021-22 amounted to £124.5m.
The punishment is the biggest sporting sanction in the competition's history and leaves Everton 19th in the table, two points adrift of safety.
Everton's case relates to interest payments on the club's new £760m stadium at Bramley Moore Dock, which they believe were permissible 'add backs' for profit and sustainability calculations in the 2021-22 financial year.
But the commission disagreed and did not accept the club's claim of mitigating factors such as being fully compliant with the Premier League over the past two years, the direct impact of the Russia-Ukraine war by forgoing the lucrative USM sponsorship and the impact of the Covid pandemic on the transfer market.
The Toffees are set to appeal against the decision and BBC Sport understands could formally submit it to the Premier League this week.
In the motion, Byrne requested the "suspension of all proceedings and sanctions made by the Commission until the regulator makes its own determination".
He added: "This House condemns the grossly unjust points deduction imposed on Everton Football Club by a Premier League commission.
"A punishment lacking any legal or equitable foundation or justification for the level of sanction and notes that financial, not sporting penalties, for far more severe breaches have been applied.
"[The motion] declares that sporting sanctions unfairly punish supporters and notices the improper dismissal of extraordinary mitigating circumstances outlined by Everton."
Earlier on Monday, mayor of Liverpool Steve Rotheram wrote to Premier League chief executive Richard Masters regarding the "wholly disproportionate" and "unprecedented" points deduction.
Rotheram said: "While I understand, and indeed support, the importance of maintaining discipline and upholding the integrity of the sport, it is crucial to ensure that any punitive measures are proportionate and just. I do not believe that this punishment fits the crime.
"I completely support the club's appeal and would urge you to take a more lenient approach and consider alternative forms of punishment that do not unfairly penalise the club's players and supporters."


Premier League predictions: Chris Sutton v CBeebies presenter and Robin Hood star Rhys Stephenson

Aston Villa have won their past 13 Premier League home games, but will they make it 14 in a row against defending champions Manchester City on Wednesday?
BBC Sport football expert Chris Sutton said: "Villa just seem to be a different proposition at home, but I think you write City off at your peril.
"They were sloppy defensively against Tottenham on Sunday, but they are still extremely dangerous when they attack."
Sutton is making predictions for all 380 Premier League matches again this season, against a variety of guests.
For this week's midweek games, he takes on CBeebies presenter Rhys Stephenson, who supports Arsenal.
You can see Rhys on the big screen in the new CBeebies Christmas Panto, Robin Hood, which is in UK cinemas now and features your favourite CBeebies stars.
Stephenson grew up supporting Arsenal but it would have been a different story if he had followed in his father's footsteps.
He told BBC Sport: "I was indoctrinated as a kid. My friends told me I supported Arsenal and I just took it with me for the rest of my life.
"My dad is actually Chelsea fan but ne never pushed on me who I should support so my friends got there first. I came home one day and told him I was an Arsenal fan now, and have been ever since.
"Now I live in Salford and I am used to being asked who I support. I've learned to say 'I'm a Red… but the wrong kind of Red'… and they usually say something along the lines of 'well, as long as you're not a City fan, that's fine.
"We're doing well at the moment but I think the end of last season, when we played City and things went wrong after that, showed why we shouldn't get carried away just yet.
"It's great to be top of the table but I think the attitude of most Arsenal fans is very British in that we won't get excited about anything until it is over. It's a case of so far, so good… but I am just going to wait to see how things work out."
Chris Sutton and Rhys Stephenson were speaking to BBC Sport's Chris Bevan.
When?

Result

Sutton

Rhys

TUESDAY, 5 DECEMBER

Wolves v Burnley

x-x

2-0

1-0

Luton v Arsenal

x-x

0-2

1-3

WEDNESDAY, 6 DECEMBER

Brighton v Brentford

x-x

2-2

2-1

Crystal Palace v Bournemouth

x-x

1-0

1-1

Fulham v Nott'm Forest

x-x

1-1

1-0

Sheff Utd v Liverpool

x-x

0-3

0-3

Aston Villa v Man City

x-x

1-2

2-2

Man Utd v Chelsea

x-x

1-2

3-4

THURSDAY, 7 DECEMBER

Everton v Newcastle

x-x

1-2

0-2

Tottenham v West Ham

x-x

3-2

0-1
A correct result (picking a win, draw or defeat) is worth 10 points. The exact score earns 40 points.
SUTTON'S PREDICTIONS
TUESDAY, 5 DECEMBER
Wolves v Burnley (19:30)
Burnley will be full of confidence after their brilliant – and much-needed – win over relegation rivals Sheffield United.
They will be looking to bring Wolves into the battle at the bottom too, but Gary O'Neil's side still have some breathing space over the drop zone despite three defeats in their past four games.
I also think Wolves will be too streetwise for the Clarets, especially at Molineux, which is why I am going for a home win.
Sutton's prediction: 2-0
Rhys' prediction: 1-0
Luton v Arsenal (20:15)
Arsenal have been much more pragmatic so far than they were last season and have not hit the same heights with their attacking play, but it is working for them.
We know how spirited Luton are at home but the way Mikel Arteta's side are playing at the moment, I just expect them to find a way to win.
Historically, the Gunners used to struggle at Kenilworth Road when Luton were in the top-flight in the late 1980s and early 1990s, and they have not won there since January 1984, but that long wait for a victory should soon be over.
Sutton's prediction: 0-2
Rhys' prediction: Of course I am going to back my team here… but Luton might be in the game for a little while though, so it's not going to be easy for us. 1-3
WEDNESDAY, 6 DECEMBER
Brighton v Brentford (19:30)
Brighton have only won won of their eight league matches and Sunday's defeat by Chelsea must have been very frustrating after the Blues went down to 10 men just before half-time.
This could be another awkward game for the Seagulls too. Brentford took four points from Brighton last season and I can see them making life difficult for Roberto de Zerbi's team again.
The Bees will sit in and counter-attack well, and I can see them getting some reward.
Sutton's prediction: 2-2
Rhys' prediction: This could be a really good game, because both teams might think they can win it and go for it a bit more. My head says a draw, but my heart says it will be a bit more exciting than that, with Brighton scoring a late winner. 2-1
Crystal Palace v Bournemouth (19:30)
The way Bournemouth have picked up has surprised me a little bit, but they are carrying more of an attacking threat and it is paying off.
I am tempted to say the Cherries can keep their run going with a point at Selhurst Park, but I have a feeling Crystal Palace will end their poor run, and edge what should be a very tight game. I am just not 100% sure why.
Sutton's prediction: 1-0
Rhys' prediction: This one feels like a draw to me, which would be a better result for Bournemouth. 1-1
Fulham v Nottingham Forest (19:30)
Fulham were unlucky to leave Anfield empty-handed on Sunday after being ahead so late on, and they looked much brighter up front. Maybe they have finally come to terms with Aleksandar Mitrovic's departure, because they have started to score goals again.
It is three defeats in a row now for Nottingham Forest and the noise around the future of their manager Steve Cooper won't go away until their results improve, no matter how unfair that seems.
These two teams are next to each other in the bottom half of the table, so you would expect this game to be close and I actually think they will end up sharing the points.
Sutton's prediction: 1-1
Rhys' prediction: I am going to give this one to Fulham. It's a bit like Brighton v Brentford with two teams near each other in the table, but both these sides are closer to the relegation zone so things might be a bit more tense. 1-0
Sheff Utd v Liverpool (19:30)
Paul Heckingbottom's departure as Sheffield United manager appears to be imminent, and it will not exactly be surprising to see him go after their past couple of results against Bournemouth and Burnley.
A new voice always makes the first game after a change of manager really interesting but, whether or not Chris Wilder gets the job, I don't see it making much difference for the Blades here, because what worries me is how brittle they are at the back.
Liverpool did amazingly well to come back to beat Fulham on Sunday and they are right in the thick of the title race now. This should be a much more straightforward victory for Jurgen Klopp's side, who have got the firepower to win comfortably.
Sutton's prediction: 0-3
Rhys' prediction: Liverpool's away form isn't always that convincing but I don't see them struggling here. 0-3
Aston Villa v Manchester City (20:15)
It has been surprising to see Manchester City conceding so many goals recently – they have shipped 10 in their past four games – and I do think Villa will score here, but I'd still back Pep Guardiola's side to score more.
It's a blow for City to be without suspended duo Rodri and Jack Grealish, but I am certainly not going to start doubting them.
They might be playing with a bit of anger after feeling wronged by the decision not to let them play an advantage right at the end of Sunday's draw with Tottenham, even if I do think too much was made out of that incident.
The referee was wrong to stop play, but I think the Spurs defence would have caught Grealish anyway.
Sutton's prediction: 1-2
Rhys' prediction: Villa have been awesome at home and I think they will really push City here. 2-2
Manchester United v Chelsea (20:15)
Manchester United were woeful at St James' Park on Saturday and it looked like some of their players couldn't be bothered.
Before the game, Manchester United boss Erik ten Hag was saying how Newcastle United had an extra day to prepare after their Champions League game in midweek, which I don't think was a great message to put out, but he ended up being let down badly by some of his players.
They weren't prepared to run, while Newcastle ran all over them and should have won by more than 1-0.
I am sure we will see more effort here, in front of their own fans, but I think we have to remember where Manchester United are at – they are seventh, but none of their eight league wins this season have come against sides in the top half of the table.
So, I think this game is definitely winnable for Chelsea, even though they remain very inconsistent. They looked a bit better organised in their win over Brighton and I can see them causing Ten Hag's problems at the back.
Sutton's prediction: 1-2
Rhys' prediction: I am going with some goals here. You can never be too sure whether Chelsea will turn up but I think they will be good in this one – they've done pretty well against the bigger sides. 3-4
THURSDAY, 7 DECEMBER
Everton v Newcastle (19:30)
This should be a really good game. between two teams who will throw everything at it.
Everton's home form is not great, but they have total belief in their approach under Sean Dyche and they play like they share the same cause.
But Newcastle's unity is also great to see – they are all in with Eddie Howe and fully invested in his playing style as well.
I was tempted to go for a draw but with former Everton winger Anthony Gordon going back to Goodison Park, I have a sneaky feeling he might make the difference.
Sutton's prediction: 1-2
Rhys' prediction: Everton will be up for this but Newcastle are playing really well. 0-2
Tottenham v West Ham (20:15)
This is a tricky game for Spurs because their manager Ange Postecoglou likes going toe to toe with teams and West Ham boss David Moyes just won't let that happen.
The Hammers beat Brighton in September with only 22% possession and they would obviously be very happy to try for a repeat of that here. They will defend very deep, and look to spring forward.
There will come a time when Spurs blow away a team or two with the way that they play, but I am not convinced that will happen here. I do think they will beat West Ham, but I don't think it will be a straightforward victory.
Sutton's prediction: 3-2
Rhys' prediction: I just have a feeling that West Ham can do this. Their defence can keep Spurs at bay, and then nick a winner. 0-1
How did Sutton do last time?
A strong week for Chris, who overpowered wrestler AEW wrestler Claudio Castagnoli.
Chris got eight correct results from 10 matches in week 14, with three exact scores, giving him a total of 170 points.
Claudio managed four correct results, with no exact scores, giving him 40 points.
Anthony Joshua

150

Eddie Hearn

130

Barry Can't Swim

110

Anish Kumar

100

Fabian Edwards, Joelah from 1Xtra, KSI, Midas the Jagaban

90

Chris Sutton
88 (average after 14 weeks)

David Earl, Keke from 1Xtra, Jazzie Zonzolo

70

Tommy Fury, Joe from Nothing But Thieves

60

Gabe of Jamie Johnson FC, Tash from The Football Academy

50

AEW wrestler Claudio Castagnoli. Tom Ogden and Joe Donovan from Blossoms

40

Willie J Healey

20

Suggs

10
Chris Sutton

1,230

Guests

1,070
How did you get on?
Tottenham's draw at Etihad Stadium was one of the results that caught you out – 76% of you went for a City win – and so was Everton's victory at Nottingham Forest, although that was much closer.
While 30% of you did go for a Toffees success, 40% of you backed Forest to triumph.
1. Chris

8/10

2. You

6/10

3. Guest

4/10
*Win, draw, loss prediction based on highest % of vote for each match.
1. You

81/140

2. Chris

78/140

3. Guests

71/140