Jude Bellingham : des débuts modestes à briller sur les plus grandes scènes du football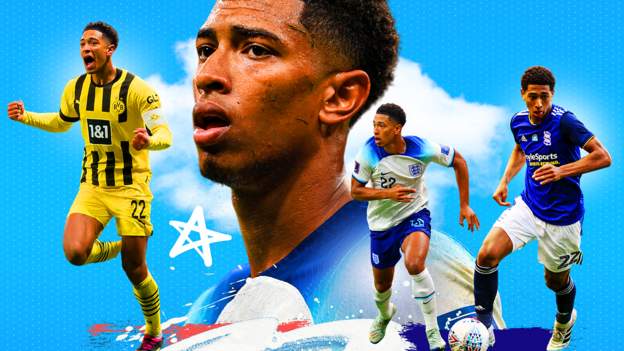 L'ascension rapide de Jude Bellingham ces dernières années l'a amené à devenir le troisième adolescent le plus cher du football mondial avec un transfert de 103 millions d'euros au Real Madrid.
Le milieu de terrain anglais du Borussia Dortmund était recherché par une foule des meilleurs clubs européens, dont Manchester City et Liverpool, mais a opté pour un transfert vers les géants espagnols pour sa prochaine étape de carrière.
Âgé de seulement 19 ans, Bellingham était l'un des artistes les plus remarquables de l'Angleterre lors de la Coupe du monde de l'année dernière et BBC Sport trace son chemin d'un humble jeune à Birmingham City à une superstar.
"Il a pleuré en quittant Birmingham"
Lorsque Bellingham a quitté les Bleus pour le Borussia Dortmund en 2020 pour 25 millions de livres sterling, devenant le joueur de 17 ans le plus cher de l'histoire du football, l'équipe du championnat a été moquée par certains. pour retirer le numéro de maillot de l'adolescent, bien qu'il n'ait joué qu'une saison complète de football professionnel.
Mais la capacité qu'il montre au monde maintenant, associée à son attitude humble, montre pourquoi il était si bien considéré chez les Blues.
"Il ne voulait pas quitter Birmingham City, il a pleuré", raconte le journaliste footballistique Guillem Balague.
"Pourtant, il est sorti de sa zone de confort et est devenu un jeune homme très confortable."
"Il n'était pas intéressé par le football"
Pour quelqu'un d'aussi incroyablement doué, il semblait qu'il était toujours destiné à devenir footballeur.
Mais en tant qu'enfant, Bellingham n'était initialement pas passionné par le sport.
Son premier entraîneur, Phil Wooldridge, se souvient de sa première rencontre avec Bellingham à l'âge de quatre ans.
"Dès que vous mettez un ballon de football devant lui, [he was] pas vraiment intéressé", a-t-il déclaré à la BBC.
"Ça a pris du temps [for him to get into football]ce n'était pas du jour au lendemain, c'était une question de quelques mois."
Mais quand ça a cliqué pour Bellingham, rien ne l'a arrêté.
Il disait à ses professeurs et à ses camarades de classe qu'un jour il jouerait pour l'Angleterre et, à mesure que son amour pour le sport grandissait, le père de Wooldridge et Bellingham a créé une équipe appelée Stourbridge Juniors pour laquelle il a continué à jouer régulièrement.
C'est là qu'il a attiré l'attention des clubs professionnels locaux et à l'âge de sept ans, il a rejoint Birmingham City, où il travaillerait sous la direction d'un entraîneur qui, selon Bellingham, l'a façonné en la personne et le joueur qu'il est aujourd'hui.
Mike Dodds, qui est maintenant entraîneur de l'équipe première de Sunderland, a joué un rôle clé dans le développement de Bellingham qui l'a conduit à faire ses débuts professionnels à l'âge de 16 ans.
"C'était mon meilleur formateur d'entraîneurs, parce que s'il n'était pas satisfait d'une séance, s'il n'était pas satisfait du type de chemin parcouru par son développement, il serait la première personne à me faire part de ses réflexions", Dodds a déclaré à la BBC.
"C'est juste un être humain magnifique, vous savez, c'est un modèle. Il a une empathie totale pour les gens qui l'entourent, d'un point de vue humain, je n'ai pas assez de mots pour le féliciter."
"C'est juste un phénomène"
Cette empathie était évidente pour les millions de spectateurs de la Coupe du monde de l'année dernière lorsque, après que Harry Kane ait raté le deuxième penalty de l'Angleterre qui aurait égalisé les scores contre la France, Bellingham a été le premier joueur à réconforter l'attaquant.
Bellingham n'a disputé qu'une seule saison à Birmingham, mais a été crucial pour les aider à éviter la relégation en Ligue 1. Le talent et la maturité dont il a fait preuve sur le terrain à seulement 17 ans ont attiré l'attention de nombreux plus grands clubs du monde, mais c'est le Borussia Dortmund qui a remporté la course pour signer le joueur.
Plutôt que d'être impressionné par la plus grande scène offerte par les géants de la Bundesliga, Bellingham a continué d'exceller et en octobre de l'année dernière, il est entré dans l'histoire en devenant le plus jeune capitaine de Dortmund à seulement 19 ans.
"Chaque fois que vous pensez avoir vu un Jude Bellingham complètement formé, il fait autre chose, quelque chose de différent et ajoute plus de couches à son jeu", a déclaré l'expert du football allemand Raphael Honigstein.
"C'est juste un phénomène et il est parfois effrayant de penser où il pourrait être à son apogée de 26 ou 27 ans."
Une autre couche que Bellingham a ajoutée cette saison a été les buts. Lors de ses deux saisons précédentes à Dortmund, il n'a pas marqué plus de six buts, mais cette saison il en compte 14, dont un contre Manchester City en Ligue des champions en septembre.
Bellingham avait également marqué contre l'équipe de Pep Guardiola en quart de finale de la compétition deux ans plus tôt, et bien que Dortmund ait été éliminé, l'ancien milieu de terrain de Manchester United Owen Hargreaves – travaillant comme expert télévisé pour ce match – a déclaré que Bellingham se démarquait de tous les autres. .
"Le gamin est un diamant absolu", a-t-il déclaré.
"Il était le meilleur joueur sur le terrain lors des deux matchs, contre certains des meilleurs joueurs du monde et il n'avait encore que 17 ans.
"Puis la façon dont il a marché le long de la ligne de touche et m'a salué ainsi que Rio [Ferdinand]il l'a fait avec une telle confiance, j'ai pensé que c'était vraiment spécial."
Pour tous ceux qui ne sont pas encore conscients du talent de Bellingham, ils le connaissaient certainement après ses performances lors de sa première Coupe du monde, où même ses coéquipiers n'ont pas été en mesure de minimiser ses capacités.
Après une autre démonstration de maître lors de la victoire 3-0 en huitièmes de finale contre le Sénégal, le milieu de terrain de Manchester City et de l'Angleterre, Phil Foden, a déclaré à propos de Bellingham : "Je ne veux pas trop le grossir parce qu'il est encore jeune", avant d'ajouter : "Mais c'est l'un des joueurs les plus doués que j'aie jamais vus.
"Il n'a aucune faiblesse dans son jeu. Je pense qu'il sera le meilleur milieu de terrain du monde."
Garth Crooks' Team of the Week: Martinez, Evans, Trippier, Bissouma, Foden, Son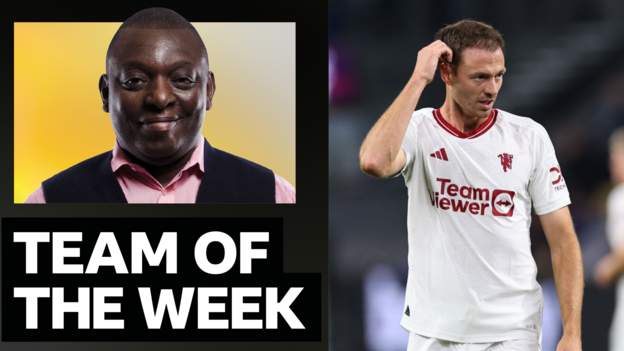 After every weekend of the Premier League, BBC football pundit Garth Crooks gathers his thoughts and gives you his Team of the Week.
Here are this week's choices. And as ever, Garth also discusses the game's big talking points in the Crooks of the Matter.
Emiliano Martinez (Aston Villa): The save by Martinez from Chelsea striker Nicolas Jackson was so important and at a crucial time in Sunday's match. Robert Sanchez was also showing good form in the Chelsea goal but was eventually, like so many of his Chelsea team-mates, found wanting when Ollie Watkins' effort went through his legs from a tight angle at the near post. Watkins shouldn't be scoring from there.
Martinez meanwhile pulled off the save of the match, with Ben Chilwell clean through. The Argentine managed a superb one-handed save that secured Villa the points. When your team is struggling – and Chelsea are – you need your keeper to pull you out of the mire. The only difference on the day between the two teams was the keepers.
Kieran Trippier (Newcastle): This was an impressive victory by Newcastle. They were involved in a goalless draw and a titanic tussle in the Champions League against AC Milan in midweek and dealt with the fixture extremely well.
To then go to Bramall Lane and be 3-0 up after just 36 minutes and 6-0 after 70 suggests just how far the Magpies have come since their ascent to the top flight and how far Sheffield United need to improve if they have any chance of staying in the Premier League.
Sheffield United never laid a glove on Newcastle. It was like a battle-hardened team playing a side just coming to terms with the division. As for Newcastle's captain Tripper, his leadership knows no bounds.
James Tarkowski (Everton): Crisis, what crisis? Not if Everton keep playing like that. The urgency with which Tarkowski raced back to defend an attack in their win at Brentford was expected, but to nudge the ball expertly away from the oncoming Keane Lewis-Potter, who was about to tap the ball into the net, was a turning point in the game.
Brentford had already equalised and looked like they had Everton on toast. Had it not been for an outstanding all-round display by Tarkowski, Everton would have been nursing another defeat. The former Brentford defender didn't mind celebrating his well-taken headed goal against his old club either. That's always a good sign. I never understood players who scored against their old club and thought it was somehow a betrayal.
Jonny Evans (Manchester United): I overheard a conversation recently where an Arsenal supporter said how surprised he was to see Evans come on against his team a few weeks ago and I must say so was I. However, he went on to suggest that Evans was, at the tender age of 35, no longer good enough for Manchester United.
Well the point of view couldn't have been further from the truth. Evans was the star performer against Burnley. The Northern Ireland international had a headed goal disallowed, played the most exquisite pass to Bruno Fernandes to volley home and helped United keep a clean sheet.
I'm not entirely sure what Arsenal fans know about top-class centre-backs anyway. The last ones they had were Tony Adams, Steve Bould and Sol Campbell and they all played into their thirties.
Kyle Walker (Manchester City): City demolished Red Star Belgrade in the Champions League in midweek and had no trouble at all doing the same with Nottingham Forest a few days later.
The desire by Walker to yet again get in behind the opposition defence and then watch a 40-yard pass from Rodri fall out of the sky onto his foot for the perfect volleyed lay-off for Phil Foden to finish was football at its finest.
Walker has started the season for club and country like a dream. I said last week the City captain is my early candidate for footballer of the year and we're only in September. More candidates are sure to follow but Walker's the only one on my list so far.
Bruno Fernandes (Manchester United): What a cracking finish by Fernandes. I was keen to see how United might react after their Champions League defeat in midweek against Bayern Munich.
Admittedly they were playing Burnley, who are finding their time in the Premier League somewhat challenging, but this was about nerve and bottle for United as much as it was about performance. United stood up to the test and deserved the victory.
The tackle by Casemiro on Luca Koleosho, who showed some fabulous footwork as he entered the box with the ball at his feet, was sensational. All credit to referee Tony Harrington who was quite right to wave away any appeals.
Yves Bissouma (Tottenham): The mere fact that this lad struggled to get a regular game under Antonio Conte is more a reflection on the high-profile Italian manager than it was on the Mali international. Bissouma has been a revelation for Tottenham so far this season and played against Arsenal with the sort of passion you expect from a midfield player in a north London derby.
The player's ability to engage the opposition and at the same time cover ground has been outstanding. A draw against Arsenal was probably a fair result but the Gunners couldn't have screamed if Tottenham had come away with all three points.
Anthony Gordon (Newcastle): This is a different player for Newcastle than I saw for Everton. Not only does Gordon look a better player in the colours of the North-East club, his performance in midweek against AC Milan in the Champions League proved it.
Gordon started on the bench for Newcastle against a Sheffield United side in desperate need of points – hardly surprising bearing in mind how hard he worked in Milan. But, having come on for the injured Harvey Barnes after just 12 minutes, Gordon practically ran the show in what turned out to be an 8-0 romp. I wasn't convinced by Gordon's transfer to Newcastle but manager Eddie Howe obviously saw something I didn't.
Abdoulaye Doucoure (Everton): Brentford may have only lost one of their previous 18 home league games but that didn't cut any ice with Everton. The nod down by Tarkowski was precise but the finish by Doucoure for Everton's opening goal was superb.
I've seen the Mali international sky opportunities like that before but not on this occasion. It would appear a masterstroke by manager Sean Dyche to move Doucoure further up the field where his height and presence is clearly proving to be a problem for the opposition. It certainly did against Brentford.
Phil Foden (Manchester City): We are six games into the season and Foden has only scored one goal for City. You wouldn't have thought so the way he struck his shot to put the league champions ahead against Nottingham Forest. City at this stage looked imperious.
However the reaction by Rodri on Morgan Gibbs-White, and Ederson's extraordinary and unnecessary response to a perfectly reasonable attempt by Taiwo Awoniyi to place the ball over the oncoming Manchester City goalkeeper, was not just temperamental but juvenile.
I sincerely hope City are not becoming prima donnas. They might be the best team in Europe but that doesn't mean the opposition can't tackle them. It also means that on occasions those tackles will hurt and you might get your hair ruffled.
Son Heung-min (Tottenham): This was an impressive Tottenham performance against their north London rivals. To go behind twice away at Emirates Stadium having had the most shocking penalty decision awarded against you takes some steel and Son displayed plenty of it.
Since the departure of Harry Kane to Bayern Munich, I detect a maturity in Son's game I haven't seen before – I also see a better team player this season. Both of Tottenham's goals were brilliantly taken by Son. Spurs didn't sulk over the awarded penalty either but had every right to make a fuss. The rule is a joke and must be scrapped. Read why I think the rule is destroying football in the Crooks of the Matter below.
The Crooks of the Matter
How have we got here? Football fans suffered VAR, with its intrusive searchlight, going about the match looking for incidents that no-one else had seen – and certainly weren't clear and obvious – for two seasons before some semblance of order was restored. It had the vast majority of us incandescent with rage and had fans chanting exactly what they thought of the technology.
We now, for some inexplicable reason, have to suffer a rule change where if the ball strikes a player's hand or arm, whether its intentional or not, is a penalty. What was wrong with the original handball rule in the first place?
I can't remember a player, coach, manager or football fan stating that they were dissatisfied with the original rule. Why are football's bureaucrats interfering with the same rules that have successfully served the industry for generations?
They have now created such a febrile atmosphere at grounds. Referees are now compelled to stop the game every time the ball strikes a player's arm regardless of the speed the ball is travelling or whether the player can get his arm out of the way or not.
Players are now asking for penalties regardless of whether a player has gained a material advantage while referees are taking an age to make a decision. Surely if a referee is having to take any time to make up his mind there must be sufficient doubt not to give the penalty at all.
When elder statesmen like Crystal Palace manager Roy Hodgson make it clear that he has no interest in winning football matches based on bogus penalty decisions, we begin to understand the depth of feeling among some managers about this ridiculous rule. It's time that more managers spoke out and saved us from this absurd nonsense.