Jude Bellingham: Pourquoi le transfert du Real Madrid serait "parfaitement logique"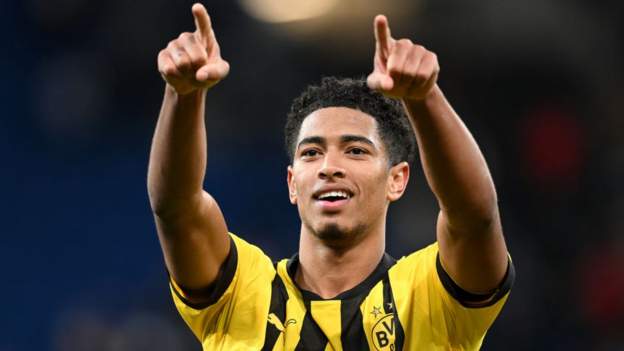 Pendant de nombreuses années, le Real Madrid était réputé pour être "Los Galacticos" – une équipe remplie de superstars coûteusement assemblées, apportant un éclat et un glamour inégalés à leurs fans avides de trophées.
La politique a été initiée en 2000 par le nouveau président Florentino Perez, qui a commencé sa frénésie en lançant une décision audacieuse pour signer Luis Figo, le meilleur joueur et icône des éternels rivaux de Barcelone. Il a été rapidement suivi par Zinedine Zidane, Ronaldo, David Beckham et Robinho alors que Perez continuait à fléchir ses muscles en éclaboussant l'argent.
Une autre vague d'achats haut de gamme a suivi après le retour de Perez à la présidence en 2009 : Cristiano Ronaldo, Kaka, Gareth Bale et James Rodriguez faisaient partie des personnes recrutées pour des frais énormes, le Real étant déterminé à se positionner comme la destination de rêve ultime pour toute superstar avec de sérieuses ambitions.
Mais quelque chose a changé. Après des années à passer chaque été à courir après les plus grands noms possibles, le Real a brusquement arrêté la politique des Galacticos et a commencé à concentrer sa stratégie de recrutement sur les jeunes les plus prometteurs du monde. Au lieu de signer les plus grandes stars établies du football, le club a décidé de recruter les prochaines stars du jeu.
Ce changement de stratégie – envisagé par Perez et son bras droit de longue date Jose Angel Sanchez, et exécuté par le dépisteur en chef Juni Calafat – a été rendu nécessaire par la reconnaissance de nouvelles réalités économiques.
Après tant d'années à être intouchable sur le marché des transferts, le Real ne pouvait plus systématiquement rivaliser avec la richesse illimitée des clubs "pétrodollars". Ils ont donc cherché une voie alternative vers le succès.
Il y aurait des exceptions occasionnelles – comme le mouvement malheureux de 100 millions de livres sterling pour Eden Hazard en 2019 et la poursuite en cours de Kylian Mbappe – mais le Real est largement resté à l'écart de ces accords majeurs, parcourant plutôt l'Amérique du Sud à la recherche d'adolescents qui avaient le potentiel de faire grand.
La première signature significative dans le cadre de cette nouvelle politique a eu lieu en 2017 lorsque le club du Real a déboursé 46 millions d'euros (39 millions de livres sterling) pour un ailier brésilien de 16 ans qui le rejoindrait officiellement lorsqu'il serait autorisé à le faire à son 18e anniversaire. Son nom était Vinicius Jr, maintenant l'un des attaquants les plus dévastateurs au monde.
Vinicius a marqué le but de la victoire lors de la finale de la Ligue des champions la saison dernière, avec la passe décisive d'un autre joueur qui avait été repéré en Amérique du Sud à l'adolescence : le milieu de terrain uruguayen Fede Valverde. Un autre héros des huitièmes de finale, qui comprenait un spectaculaire doublé tardif contre Manchester City, a également parcouru le même chemin : l'ailier brésilien Rodrygo, qui a rejoint le Real depuis Santos à l'âge de 18 ans.
Le Real mène également la même stratégie plus près de chez lui, renforçant son milieu de terrain vieillissant au cours des deux dernières saisons avec les meilleures perspectives de France : Eduardo Camavinga, 18 ans, a été signé pour 40 millions d'euros de Rennes en 2021, avec Aurélien Tchouameni, un Vétéran comparatif à 22 ans, suivi un an plus tard de Monaco pour 80 millions d'euros.
Dans ce contexte, il est facile de comprendre pourquoi le Real s'est positionné comme favori pour la signature du milieu de terrain anglais Jude Bellingham, qui a été pressenti pour se rendre dans la capitale espagnole depuis le Borussia Dortmund à la fin de la saison.
La politique de longue date du Real consistant à recruter les meilleurs jeunes joueurs du monde rend tout naturel qu'ils soient extrêmement intéressés par la signature d'un joueur de 19 ans qui a déjà fait près de 200 apparitions seniors et remporté 24 sélections internationales.
De même, la volonté avérée du club de donner aux jeunes joueurs une chance de réussir au plus haut niveau fait du Bernabeu une destination très attrayante pour les espoirs en vogue qui, comme Bellingham, veulent pousser leur carrière le plus loin possible.
Et Bellingham, en supposant que le déménagement supposé soit terminé, aura de nombreuses occasions de prouver sa valeur avec le Real. Luka Modric, qui aura 38 ans au début de la saison prochaine, et Toni Kroos, 33 ans, deviennent progressivement moins importants pour Los Blancos, dont le trio classique a été rompu au début de cette saison avec le départ de Casemiro pour Manchester United.
Un milieu de terrain de Bellingham, Camavinga, Tchouameni, Valverde et Dani Ceballos – signé du Real Betis âgé de 20 ans en 2017 et enfin devenu un habitué – fournir les munitions à Vinicius, Rodrygo (et, qui sait, Mbappe ?) serait une justification remarquable de la politique de "signez-les jeunes" de Real. Et cela ne s'arrête pas là – le Brésilien Endrick a déjà accepté de le rejoindre lorsqu'il aura 18 ans en 2024.
Le succès, bien sûr, n'est pas garanti. Pour chaque Vinicius, il y a un Luka Jovic, qui a été acheté à l'Eintracht Francfort pour 60 millions d'euros en 2019 mais a mal floppé avec seulement trois buts en 51 apparitions. Pour chaque Valverde, il y a un Martin Odegaard ou Take Kubo, qui ont eu des apparitions limitées (ou, dans le cas de Kubo, pas) en équipe première avant de s'épanouir ailleurs.
Mais compte tenu de la stratégie de transfert suivie par le Real ces dernières années, Bellingham au Bernabeu est parfaitement logique – et il n'aura peut-être jamais de meilleures chances de devenir l'un des meilleurs joueurs du monde.
Aston Villa: How WSL club are using transfer market to try to close gap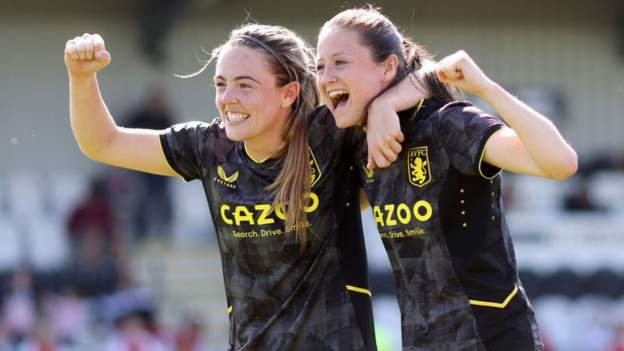 Aston Villa may only be three years into their Women's Super League journey but they are already intent on closing the gap to the top four – and they are using the transfer market to do it.
Arsenal, Chelsea, Manchester City and Manchester United have been the dominant teams in the WSL for several years but Villa, finishing fifth last season, have plans to change that.
BBC Sport takes a look at how Villa, who host United in their season opener on Sunday (12:30 BST), have successfully climbed their way up the table.
'My job is managing people'
Manager Carla Ward joined the club from rivals Birmingham City in 2021 and has taken the team on an upward trajectory since.
Alongside the club's head of women's football, Lee Billiard, Ward set out a three-year plan which centred around recruitment and a style of play.
A key part of Ward's philosophy was making each player feel valued and she did that by connecting with them on a personal level.
"I always go back to that human element. If you ask any of the players, like Jordan Nobbs, I know why she signed and what her reasons are," Ward said.
"They are not just footballers, they are people. I'm a far better manager than I am a football coach. I have coaches who can coach very well. My job is managing people."
Having achieved what they had set out to do a year earlier than planned, Ward admits there is a new challenge this season which they have not yet faced – a target on their backs.
"We finished as the best of the rest, which is what everyone wants," Ward said. "We know it comes with it. But the expectation from within is far greater than those on the outside and that's the reality.
"[The squad] are all ambitious and always want to be better. We won't be resting on the fact we finished fifth. The success last year wasn't just a Leicester City winning the Premier League moment. It was a long three years of work and continuing to build in every transfer window.
"In each window we've replaced players going out of the door with ones pushing to play in the starting XI. That's really important in terms of our strategy. We had a very clear plan and we are well on track with it.
"It's why I never want to get carried away because we are on a journey and if we can continue to develop then of course, top four, sooner or later, will be in sight."
'We always have a plan A, B and C'
Villa have made some big signings in recent windows, including last season's Golden Boot winner and Player of the Year Rachel Daly.
The Euro 2022 winner has been joined by Scotland winger Kirsty Hanson, England midfielder Jordan Nobbs and defender Lucy Parker, and Netherlands goalkeeper Daphne van Domselaar.
"I'm quite picky and I know what I want in football. It's important we went after them," said Ward. "We got offered a lot of players after finishing in the top five but we can't just take good players.
"We have to take players that fit into the way we play, our values and our principles. They also need to be the right person for our dressing room. That's bigger than anything."
Part of Villa's recruitment strategy is to create 'bands' of players. That means they identify players to sign who are intended to improve the starting XI, others who can compete for a place and others who will provide squad depth.
"We know from now who we have [who have contracts] running out this summer, next summer and the summer after that," added Ward.
"There are different types of players and bands. We then know that if a certain player's contract is running out, when we can start negotiating and who we need to get in as replacements if [those contract negotiations] don't happen.
"We always have a plan A, B and C. For example, Daphne van Domselaar was done at Christmas. Everyone who came in this summer, we were on track to do either last summer or in January. We were very clear what we were going after."
'People were asking silly money for players'
Not just recruiting talent, but retaining talent, has been key to Villa's success since earning promotion to the WSL in 2020.
Only one high-profile player left the club this summer, with England goalkeeper Hannah Hampton joining Chelsea – but Villa replaced her with Van Domselaar.
They kept successful loanees Hanson and Anna Patten, while renewing contracts for regular starters Kenza Dali, Alisha Lehmann and Maz Pacheco.
"One of the things on my initial presentation to the board was to reduce the turnover of players," said Ward.
"The players we have in the building now, there's not many whose contract runs out next summer. If you look at our starting XI from last year – 90% of the games we had a similar team – all of those players bar Hampton are still here and that's important.
"Now those players have competition [for places] which we didn't have last year. If your strategy is water-tight and aligns with what you're trying to do, you shouldn't be in a position where you're going after nine or 10 players."
The WSL transfer market has changed rapidly in recent seasons with top clubs willing to spend large sums of money on the world's best players, while longer-term contracts are now being offered.
"[The transfer market] is wild. One transfer of Bethany England going for £250,000 [from Chelsea to Tottenham in January] has inflated everyone's prices," Ward added.
"People were asking silly money for players which was utterly ridiculous. You have to make sure you grow alongside the inflation in the game otherwise we will crash."