les inscriptions Ordinals doublent en une semaine et approchent des 5 millions
Les inscriptions « BRC-20 », qui font usage du protocole Ordinals sur Bitcoin, se sont arrachées ces dernières semaines. Et malgré la chute récente de leurs cours, elles continuent de susciter l'intérêt des investisseurs. Elles ont en effet doublé depuis la semaine dernière.
Les inscriptions Ordinals sur Bitcoin continuent d'exploser
Jusque là, ce sont les inscriptions d'images sur la blockchain Bitcoin qui suscitaient l'enthousiasme. Mais la tendance a évolué depuis la création d'un nouveau standard, baptisé BRC-20. Inspiré par les ERC-20 d'Ethereum, il permet d'inscrire du texte avec le protocole Ordinals… Et donc de créer des tokens.
Selon le cofondateur de la firme Glassnode, Rafael Schultze-Kraft, qui partageait une analyse ces derniers jours, ces inscriptions sont désormais majoritaires sur le réseau :
6/ Jpegs are yesterday's news: the rise of Taproot transactions can be attributed to the heavy increase of text inscriptions.

Up to more than 50% of all transactions in the #Bitcoin network were associated with inscriptions using text.

Dashboard: https://t.co/YKwAbthEXL pic.twitter.com/x0fo8bBJwl

— Rafael Schultze-Kraft (@n3ocortex) May 4, 2023
« Plus de 50% des transactions sur le réseau Bitcoin sont associées à des inscriptions basées sur du texte. »
Cet engouement est particulièrement visible depuis le mois dernier : les inscriptions basées sur le texte ont explosé, pour complètement écraser les autres types d'inscriptions :
La révolution n'est donc plus basée sur des « pseudo-NFTs », mais bien sur des tokens d'un genre nouveau.
👉 Pour aller plus loin – Que sont les Bitcoin Ordinals et en quoi se distinguent-ils des NFT ?
Acheter des cryptos sur eToro en quelques minutes
Près de 5 millions d'inscriptions depuis février dernier
Comme le souligne Rafael Schultze-Kraft, cela veut aussi dire que jusqu'à un tiers des frais de transaction récoltés par les mineurs étaient liés à ces inscriptions. Les frais totaux récoltés depuis le début du protocole Ordinals approchent désormais des 25 millions de dollars.
Au total, ce sont près de 5 millions d'inscriptions qui ont été effectuées, dont 2.5 millions rien que sur la semaine qui vient de s'écouler. Cela montre bien la frénésie qui s'est emparée de l'écosystème. Durera-t-elle ? C'est toute la question. Alors que les memecoins comme le PEPE ont fortement chuté hier, il s'agit d'attendre de voir si des usages plus concrets se manifesteront.
👉 Écoutez cet article et toutes les autres actualités crypto sur Spotify
Notre service dédié aux investisseurs en cryptomonnaies. Obtenez des analyses en temps réel et optimisez votre portefeuille crypto.
Sources : Dune Analytics
Newsletter 🍞
Recevez un récapitulatif de l'actualité crypto chaque lundi par mail 👌
Ce qu'il faut savoir sur les liens d'affiliation. Cette page présente des actifs, des produits ou des services relatifs aux investissements. Certains liens présents dans cet article sont affiliés. Cela signifie que si vous achetez un produit ou que vous vous inscrivez sur un site depuis cet article, notre partenaire nous reverse une commission. Cela nous permet de continuer à vous proposer des contenus originaux et utiles. Il n'y a aucune incidence vous concernant et vous pouvez même obtenir un bonus en utilisant nos liens.
Les investissements dans les crypto-monnaies sont risqués. Cryptoast n'est pas responsable de la qualité des produits ou services présentés sur cette page et ne pourrait être tenu responsable, directement ou indirectement, par tout dommage ou perte causé suite à l'utilisation d'un bien ou service mis en avant dans cet article. Les investissements liés aux crypto-actifs sont risqués par nature, les lecteurs doivent faire leurs propres recherches avant d'entreprendre toute action et n'investir que dans les limites de leurs capacités financières. Cet article ne constitue pas un conseil en investissement.
Recommandations de l'AMF. Il n'existe pas de rendement élevé garanti, un produit présentant un potentiel de rendement élevé implique un risque élevé. Cette prise de risque doit être en adéquation avec votre projet, votre horizon de placement et votre capacité à perdre une partie de cette épargne. N'investissez pas si vous n'êtes pas prêt à perdre tout ou partie de votre capital.
Pour aller plus loin, lisez nos pages Situation Financière, Transparence du Média et Mentions Légales.
Household of Man Who Died Sues Tow Truck Driver They Stated Sat on the Man's Head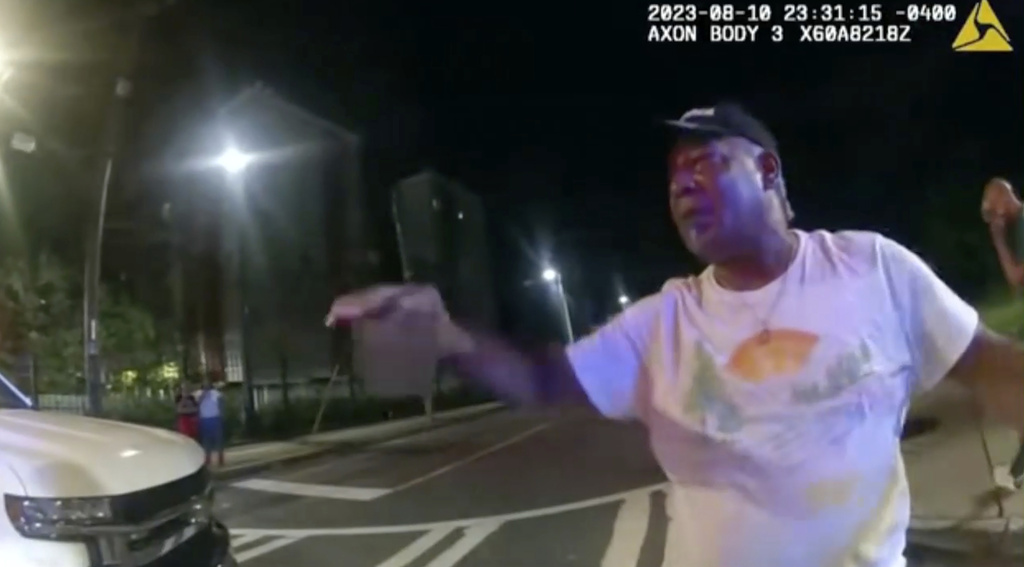 ATLANTA (AP) — The household of a Georgia church deacon who died after scuffling with a police officer following a minor automotive crash has filed a wrongful loss of life lawsuit towards a tow truck driver they are saying arrived throughout the confrontation and sat on the person`s head and neck.
The lawsuit filed Monday says the officer`s physique digital camera video exhibits the tow truck driver straddling Johnny Hollman Sr. throughout the tussle Aug. 10, "showing to sit down together with his full physique weight" on Hollman's head and neck.
Kin have mentioned Hollman, 62, was driving dwelling from Bible research at his daughter's home and taking dinner to his spouse when he collided with one other automobile whereas turning throughout a busy avenue simply west of downtown Atlanta.
Atlanta police Officer Kiran Kimbrough responded to the crash and he shortly determined Hollman was accountable. Hollman insisted he had performed nothing flawed however Kimbrough ordered him to signal a visitors ticket. The 2 males started to tussle.
Kimbrough`s physique digital camera video launched final month exhibits Hollman shortly ended up on the bottom, as he continued to insist he didn't do something flawed. Kimbrough yells at him to signal the ticket.
Hollman repeatedly says "I can't breathe," and Kimbrough makes use of a Taser to shock him.
About 10 seconds later, a person recognized within the lawsuit because the tow truck driver is seen coming to the officer`s support.
The lawsuit says the tow truck driver "instantly joined the officer" on high of Hollman's physique and "forcefully grabbed" Hollman`s left arm with out the officer showing to ask for assist. The go well with says the driving force "straddled the citizen's head and neck, showing to sit down together with his full physique weight on the citizen's head and neck." The go well with says the driving force straddled Hollman's head and neck for a minimum of 20 seconds whereas handcuffs have been placed on Hollman.
Hollman was declared useless at a hospital.
The opposite driver within the crash was not concerned within the wrestle.
The lawsuit accuses the tow truck driver of being negligent or reckless, and of inflicting or contributing to the bodily accidents that Hollman suffered earlier than dying. The household is asking for a jury trial and desires unspecified damages towards the driving force and S&W Providers of Atlanta, his employer.
Reached by cellphone, a person at S&W who recognized himself solely as Tom and mentioned he was a dispatcher mentioned the corporate had no touch upon the lawsuit.
Kimbrough was fired on Oct. 10 after Atlanta Police Chief Darin Schierbaum mentioned the officer violated division coverage when he didn't wait till a supervisor arrived to arrest Hollman. Kimbrough`s legal professional Lance LoRusso has mentioned the officer did nothing flawed and has appealed his dismissal.
Hollman's household has referred to as for Kimbrough and the tow truck driver to be arrested and charged in Hollman's loss of life. The Georgia Bureau of Investigation has accomplished its inquiry into Hollman's loss of life and has turned its file over to Fulton County District Legal professional Fani Willis, who will resolve whether or not to pursue prices.
Picture: This picture from bodycam video offered by the Atlanta Police Division exhibits Johnny Hollman Sr. talking with Officer Kiran Kimbrough on Aug. 10, 2023 in Atlanta. The police officer responding to a minor automotive crash deployed a Taser on the church deacon who disregarded a number of instructions to signal a visitors ticket, stunning the person after he repeatedly mentioned he couldn't breathe, police physique digital camera video launched Wednesday, Nov. 22, 2023 exhibits. Hollman Sr. turned unresponsive throughout his arrest and later died. (Atlanta Police Division through AP)
Copyright 2023 Related Press. All rights reserved. This materials is probably not printed, broadcast, rewritten or redistributed.
Subjects
Lawsuits
Auto
Personal Auto