Lionel Messi: From shy genius to 'bad boy' leader – his Qatar transformation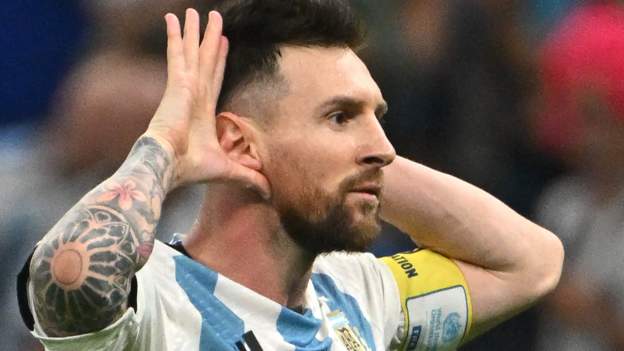 When Lionel Messi won the World Cup at the fifth and, seemingly, final attempt in Qatar last December, it was the last jigsaw piece in arguably the greatest footballing CV of all time.
But victory was only part of the story.
Behind the scenes and then on the biggest stage, Messi's transformation in the Middle East became evident.
The 35-year-old's genius has long been beyond doubt and debate. But his character had changed. As a teenager, Messi was so painfully shy he would get changed in the corridor to avoid his team-mates in the Barcelona youth set-up.
"This World Cup he was different," said Argentina and Aston Villa goalkeeper Emiliano Martinez.
"We are probably more aggressive than the players in the national teams he's played with before. So he's probably becoming a little more like us – that bad boy."
Here, some of the stars from the recently-released BBC Sport documentary Lionel Messi: Destiny, unpack and dissect that final evolution of Messi – from shy teenage genius to talismanic "bad boy".
"He's a great lad but he can't even direct traffic. How can you give the national team to Scaloni?"
Diego Maradona's typically colourful thoughts regarding Lionel Scaloni's appointment to the Argentina manager job in 2018 captured the mood of the nation.
Putting it bluntly, Scaloni was a Lionel Messi appointment – a deliberate decision by the Argentine Football Association to keep a generational talent onside and in the side.
In the years prior to Scaloni's appointment, Messi had a troubled relationship with the national team and, at times, with the national boss.
After a talented Argentina team was comprehensively beaten by Germany in the quarter-finals of the 2010 World Cup, Maradona, then-Argentina coach, criticised Messi's leadership qualities.
A fiasco of a 2018 World Cup campaign brought an early exit for Argentina and another coach in Jorge Sampaoli.
Sandwiched in between was 2016, a year which saw Messi briefly retire from international football after missing a penalty in the Copa America final defeat by Chile.
Such set-backs ensured that the number one motivation for the Argentine FA in appointing Scaloni was to keep their number one star happy.
"The FA had a single objective, to find a manager who could work with Messi and get the best out of him," said Messi biographer Guillem Balague.
"When Scaloni took over he said to Messi, 'what do you think, what would work for you?'.
"It was an equal conversation, and you have to do that when you have the best player in the world."
Argentine journalist Marcela Mora y Araujo added: "He was appointed without massive press coverage or a presentation moment – there seemed to be little energy to go hunting for big names.
"Most people were furious. We didn't know much about him. The thought was that the job should go to a football celebrity or influential character, and it just went to a guy who was sort of anonymous."
However, it was that anonymity, small-town humility and lack of ego that endeared Scaloni to the Argentina squad – and crucially, to Messi.
"Scaloni's very relaxed," Argentina and Manchester City forward Julian Alvarez said. "Very honest, and he has that thing of coming from a small town. I also identify with that a lot because I also come from a small town, and you can see that human quality that he has."
Martinez added: "You're always going to have talented players, but it's how you manage them. It's like having a Ferrari – if you don't know how to drive it, then you're going to crash on every corner. That's the only explanation I can give for Scaloni – he knows exactly how to drive a Ferrari."
Creating a home from home in Qatar
Looking after what was under the bonnet was vital to keep Messi – and ultimately the Argentina squad – happy in Qatar.
Despite leaving Argentina as a teenager, Messi has held on to much of his Argentine roots and specifically his hometown Rosario.
"He speaks with an Argentinean accent, eats Argentinean food, watches Argentinean films and listens to Argentinean music," said Jonathan Wilson, author of Angels With Dirty Faces – a footballing history of Argentina.
Scaloni and the Argentine FA were fastidious about leaning into those home comforts for Messi and his team-mates, creating a "little Argentina" at their World Cup base at Qatar University.
Early in the Scaloni reign, some of the younger players bonded with Messi by knocking on his hotel door and asking him to play the Argentine card game of Truco.
That same game was ubiquitous in Qatar along with Argentine tea called mate, and, more importantly, asados (barbeques) with imported Argentine beef. It was reported the team brought in 900kg of the meat for their campaign.
"I think for all Argentina people, if you have mate and a beautiful barbeque you don't need more in life," said Messi's former Argentina team-mate Pablo Zabaleta.
According to both Balague and Mora y Araujo, these techniques ensured Argentina got the best out of Messi, transporting the top player in the world back to a childhood left behind when he moved to Barcelona aged just 13.
On the pitch, the echoes of that childhood were most clearly heard during the quarter-final win over the Netherlands.
Dutch manager Louis van Gaal had questioned Messi's work-rate off the ball before the match. It was a move that angered his team-mates and added fuel to a historic enmity between the pair.
"Attacking Leo… you shouldn't do that to Argentines," Brighton's Alexis Mac Allister said.
Messi's feelings spilled out in the 73rd minute of the quarter-final. Messi celebrated Argentina's second goal by standing in front of the dugout, cupping his ears to seemingly mock Van Gaal's previous comments.
Messi and former Argentina international Juan Roman Riquelme are now close friends.
Before though, during Riquelme's solitary season at Barcelona in 2002, the relationship was more one of adulation.
Riquelme's former agent once recalled a teenage Messi "sitting looking at Riquelme as if he were Jesus Christ" at a barbeque arranged for Barca's South American players.
Mora y Araujo suggested Messi's celebration against the Netherlands – one which Riquelme has performed throughout his career – also reflected Messi's historic frustration at his friend being played out of his usual position during his time under Van Gaal at Barcelona in the early 2000s.
"It was surprising coming from Messi," she said. "The nod to Riquelme was unexpected."
Whatever the motivation of the celebration, it was not the end of Messi's combativity.
After the match, the Argentine forward confronted Dutch assistant Edgar Davids on the sidelines and in the tunnel he interrupted his own live TV interview to insult the Holland "number 19", as Messi called him, Wout Weghorst.
"In the tunnel on the way to the changing rooms – 'the number 19', as he calls him, walks by," Mora y Araujo added. "Messi interrupts the interview to say, 'go away silly, what are you looking at?'.
"Messi's delivery was very spontaneous. It has Rosario intonations, it's something someone's grandmother might say.
"It's clearly not mild anger he's expressing."
Balague suggested Messi "reacted in a way that, even he himself, did not recognise".
To understand the outburst it is necessary to go all the way back to Messi's childhood in his hometown of Rosario, 185 miles (300km) north west of Buenos Aires.
"There is an edge to Messi at the World Cup, and that is to do with the people he has got around him and him feeling comfortable with that.
"Because when he was 12, he was probably like that in the streets.
"Then when he moves to Barcelona he has to be a different person, more Catalan, more distant, more quiet.
"But he had that in him.
"It's not that he became Maradona. It was the Rosario in him that appeared in the World Cup in front of our eyes."
Both Mora y Araujo and Balague point out that the insult Messi chose for Weghorst – "bobo" – is a word that only "kids use".
And Martinez agreed with Balague in suggesting the change was akin to a child falling in with the wrong crowd at school.
"We are probably more aggressive than the players in the national teams he's played with before," he said. "So he's probably becoming a little more like us – that bad boy."
For Wilson, Messi finding his voice was as much about the players that weren't there.
The presence of big talkers such as Javier Mascherano in previous Argentine teams meant Messi wasn't needed to perform that role.
But in Qatar, there was a vacuum.
Journalist Christian Martin was embedded in the Argentine camp throughout the tournament.
Both he – and Messi biographer Balague – were struck by how Messi filled that vacuum, from as early as the first match.
A shock 2-1 defeat by Saudi Arabia left one of the pre-tournament favourites facing a potential early flight home.
Historically, after such a setback, Messi would spend the least time possible amid the gauntlet of microphones in the media 'mixed zone' players are obliged to walk through.
"It took him an hour to go through the mixed zone after Saudi Arabia," said Balague.
"He was saying 'we're better than this'."
Martinez added: "He spoke to every single broadcaster and repeated the same sentence: 'Believe in us, we won't let you down. Stick with us.'
"It was a very strong sentence by Leo."
Zabaleta said: "I think we really enjoyed Messi, being a proper leader, but in a good way.
"In hard situations he was the only one talking, he didn't want to send some of the inexperienced players out to the media and that was great to see."
This willingness to front up, in the press and on the pitch such as in the Holland game led to articles galore on the notion that Messi had become "Maradonised" and had found his "inner Diego".
But Mora y Araujo disagrees with the idea that Messi was channelling, or becoming, Maradona. Rather, he was, perhaps finally, comfortable in his own skin – a far cry from the teenager carrying the weight of his family's fortunes at Barcelona or the superstar weighed down by a nation's expectations at previous World Cups.
She said: "There was a lot of smiling on the pitch. His head was up. He was confident.
"He showed and transmitted an acceptance of himself. There was no awkwardness in delivering his awkwardness if that makes sense.
"People were texting and writing, 'has Messi been taken over by the spirit of Maradona…? Maradona speaks through Messi…' No! He hasn't turned into Maradona. He has grown into himself.
"For many years there was enormous pressure on Messi to perform, or to be, or to behave to some nebulous demand to be more Argentinean, to be more passionate, to be more like Maradona.
"I think for a long time he was uncomfortable with that.
"The main observable thing about Messi at this World Cup was a comfort in his own body. Less pressure to perform. More comfortable being himself."
Comfortable in himself. And comfortable with the stakes.
"I think he must have felt the breath of history on his shoulder. He must have felt time closing in on him," said Wilson.
According to Mora y Araujo, dealing with the clock ticking down on his career was Messi's greatest feat in Qatar. For a month he was able to kept calm, without dulling a ferocious desire to win.
"That's a very interesting combination. At the 2006 World Cup, he famously sat on the bench and didn't even get to play in the quarter-final defeat by Germany.
"There was a grouching, tantrum-y, child-like reaction so at odds with the Messi we saw in Qatar.
"It is a great progression to a point of emotional maturity.
"And I think it's wonderful to see that growth over a career of almost two decades."
Did Messi come of age? Did he channel the late Maradona? Did he rediscover a personality left behind in the backstreet games of his hometown of Rosario?
Whatever was going on in Messi's mind in the Middle East, it helped realise his sole focus – the winner's medal.
"I think after this World Cup – he completed football," Martinez said.
Aston Villa: How WSL club are using transfer market to try to close gap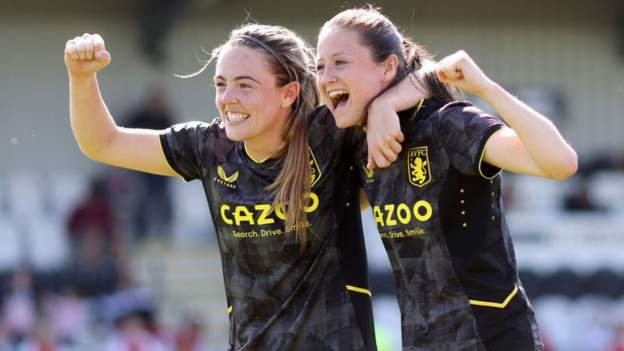 Aston Villa may only be three years into their Women's Super League journey but they are already intent on closing the gap to the top four – and they are using the transfer market to do it.
Arsenal, Chelsea, Manchester City and Manchester United have been the dominant teams in the WSL for several years but Villa, finishing fifth last season, have plans to change that.
BBC Sport takes a look at how Villa, who host United in their season opener on Sunday (12:30 BST), have successfully climbed their way up the table.
'My job is managing people'
Manager Carla Ward joined the club from rivals Birmingham City in 2021 and has taken the team on an upward trajectory since.
Alongside the club's head of women's football, Lee Billiard, Ward set out a three-year plan which centred around recruitment and a style of play.
A key part of Ward's philosophy was making each player feel valued and she did that by connecting with them on a personal level.
"I always go back to that human element. If you ask any of the players, like Jordan Nobbs, I know why she signed and what her reasons are," Ward said.
"They are not just footballers, they are people. I'm a far better manager than I am a football coach. I have coaches who can coach very well. My job is managing people."
Having achieved what they had set out to do a year earlier than planned, Ward admits there is a new challenge this season which they have not yet faced – a target on their backs.
"We finished as the best of the rest, which is what everyone wants," Ward said. "We know it comes with it. But the expectation from within is far greater than those on the outside and that's the reality.
"[The squad] are all ambitious and always want to be better. We won't be resting on the fact we finished fifth. The success last year wasn't just a Leicester City winning the Premier League moment. It was a long three years of work and continuing to build in every transfer window.
"In each window we've replaced players going out of the door with ones pushing to play in the starting XI. That's really important in terms of our strategy. We had a very clear plan and we are well on track with it.
"It's why I never want to get carried away because we are on a journey and if we can continue to develop then of course, top four, sooner or later, will be in sight."
'We always have a plan A, B and C'
Villa have made some big signings in recent windows, including last season's Golden Boot winner and Player of the Year Rachel Daly.
The Euro 2022 winner has been joined by Scotland winger Kirsty Hanson, England midfielder Jordan Nobbs and defender Lucy Parker, and Netherlands goalkeeper Daphne van Domselaar.
"I'm quite picky and I know what I want in football. It's important we went after them," said Ward. "We got offered a lot of players after finishing in the top five but we can't just take good players.
"We have to take players that fit into the way we play, our values and our principles. They also need to be the right person for our dressing room. That's bigger than anything."
Part of Villa's recruitment strategy is to create 'bands' of players. That means they identify players to sign who are intended to improve the starting XI, others who can compete for a place and others who will provide squad depth.
"We know from now who we have [who have contracts] running out this summer, next summer and the summer after that," added Ward.
"There are different types of players and bands. We then know that if a certain player's contract is running out, when we can start negotiating and who we need to get in as replacements if [those contract negotiations] don't happen.
"We always have a plan A, B and C. For example, Daphne van Domselaar was done at Christmas. Everyone who came in this summer, we were on track to do either last summer or in January. We were very clear what we were going after."
'People were asking silly money for players'
Not just recruiting talent, but retaining talent, has been key to Villa's success since earning promotion to the WSL in 2020.
Only one high-profile player left the club this summer, with England goalkeeper Hannah Hampton joining Chelsea – but Villa replaced her with Van Domselaar.
They kept successful loanees Hanson and Anna Patten, while renewing contracts for regular starters Kenza Dali, Alisha Lehmann and Maz Pacheco.
"One of the things on my initial presentation to the board was to reduce the turnover of players," said Ward.
"The players we have in the building now, there's not many whose contract runs out next summer. If you look at our starting XI from last year – 90% of the games we had a similar team – all of those players bar Hampton are still here and that's important.
"Now those players have competition [for places] which we didn't have last year. If your strategy is water-tight and aligns with what you're trying to do, you shouldn't be in a position where you're going after nine or 10 players."
The WSL transfer market has changed rapidly in recent seasons with top clubs willing to spend large sums of money on the world's best players, while longer-term contracts are now being offered.
"[The transfer market] is wild. One transfer of Bethany England going for £250,000 [from Chelsea to Tottenham in January] has inflated everyone's prices," Ward added.
"People were asking silly money for players which was utterly ridiculous. You have to make sure you grow alongside the inflation in the game otherwise we will crash."