Public Sale My Lovely Planet : Investissez dans l'environnement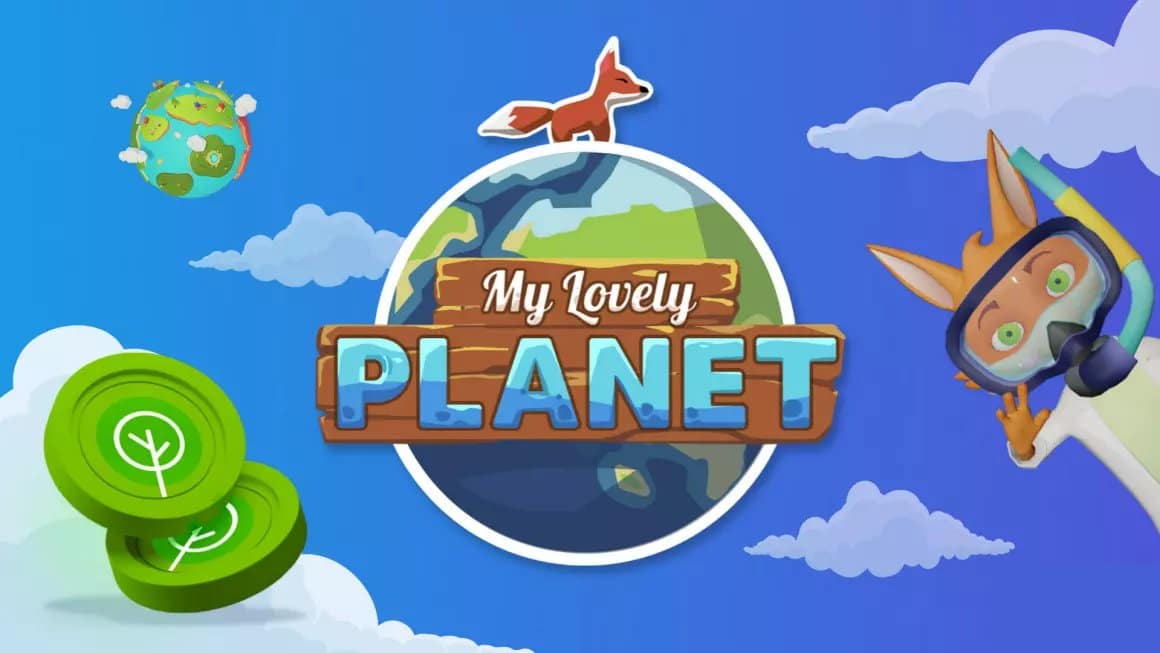 18h00 ▪
8
min de lecture ▪ par
Elina S.

My Lovely Planet vient de franchir une nouvelle étape dans le développement de son projet avec le lancement de la vente publique de son token MLC le 22 mai dernier. À travers cette public sale, My Lovely Planet vous offre l'opportunité d'investir dans un projet révolutionnaire à fort impact environnemental, axé sur la durabilité, qui vous permet de devenir un acteur actif de la sauvegarde de la planète.
Investissez dans un projet Web3 révolutionnaire et ambitieux
My Lovely Planet veut tirer parti de la puissance de la crypto et de la popularité des jeux en ligne pour fédérer un maximum de monde autour de la protection de l'environnement. En lançant le jeu My Lovely Planet, Clément Le Bras, fondateur du projet, ambitionne de créer la plus grande communauté mondiale engagée de 100 millions de joueurs d'ici 2030. 
Au cœur de ce projet, on trouve My Lovely Coin (MLC), le token ecofriendly qui sera un élément clé de l'économie du jeu. À terme, l'équipe espère que ce jeton utilitaire intègrera le Top 30 des cryptomonnaies en termes de capitalisation boursière. 
Un objectif ambitieux, mais leur feuille de route précise et détaillée a déjà convaincu Ubisoft, Unity, plus de 500 000 abonnées sur Tiktok et plus de 40 000joueurs sur leur version Béta.
La stratégie de l'équipe est d'intégrer un Launchpad puis un listing sur un échange centralisé CEX pour le mois de septembre 2023, afin de faire connaître le token MLC rapidement au plus grand nombre.
Intégrer un top exchange mondial, attirer un flux constant de nouveaux joueurs et holders grâce à un super jeu mainstream et faire du MLC un token qui permettra d'accéder à un écosystème global de services. Voilà à quoi l'équipe va s'atteler dans les prochains mois.
L'équipe pourra aussi compter sur des releases régulières : une nouvelle version du jeu sortira tous les mois pour augmenter la rétention et convaincre une communauté Web2 toujours plus nombreuse.
Le token MLC aura une utilité dans le jeu (achat de gaines, objets, tickets magiques, débloquer des jeux), mais aussi en dehors du jeu. En effet, le token du projet sera la pierre angulaire de tout un écosystème de produits du quotidien pour lesquels les utilisateurs devront payer en MLC : "La Mangrove".
Investir dans My Lovely Planet c'est investir dans un projet ambitieux qui s'efforce de créer un avenir plus propre et plus durable. Au-delà de la dimension écologique, l'investissement durable peut aider les utilisateurs à gérer les risques et à obtenir de meilleurs rendements financiers à long terme.
La supply totale de MLC est fixée à 1 milliard de tokens. De cette offre, 5 %, soit 50 millions de tokens, ont déjà été mis en vente lors d'une vente privée. Le 22 mai, le projet a lancé sa vente publique. Cette presale concerne 70 millions de tokens, soit 7 % de l'offre totale auquel viennent s'ajouter les invendus de la vente privée (My Lovely Planet a vendu 28 millions de jetons MLC et en a brûlé 20 millions). 
En participant à la public sale, vous bénéficiez d'un tarif préférentiel par rapport au prix de vente du MLC lorsqu'il sera listé sur les différents exchanges. À l'achat, l'investisseur a le choix entre plusieurs périodes de vesting qui déterminent les conditions de libération des tokens au bout de 3 mois.
Investissez dans la planète
Participer à la vente publique en investissant dans My Lovely Planet est plus qu'un simple placement dans un projet Web3. Investir dans My Lovely Planet revient aussi à investir directement dans la planète. Il faut savoir que My Lonely Planet alloue en effet 40 % du total supply à l'Environmental Treasury. Cette trésorerie permettra de financer directement les projets environnementaux.
En tant qu'investisseur, vous aurez même la possibilité de décider quels projets seront financés à l'avenir, avec la création prochaine d'une DAO. Cette organisation autonome décentralisée (DAO) sera chargée de la gestion de l'Environmental Treasury et décidera des causes à défendre au travers des votes de la communauté . Vous pouvez également proposer de nouveaux projets environnementaux à soutenir. Cette démarche contribuera à atteindre les trois objectifs de My Lovely Planet. D'ici 2030, le projet ambitionne notamment de : 
Planter 1 milliard d'arbres et protéger les forêts existantes pour le captage de carbone ;
Nettoyer 1 million de tonnes de déchets océaniques, notamment les déchets plastiques ;
Protéger la biodiversité (40 000 espèces menacées) et assurer la protection des animaux.
Devenez un acteur actif de la sauvegarde de l'environnement
Investir dans My Lovely Planet, c'est aussi soutenir un projet qui permet de transformer les arbres virtuels en arbres réels comme l'explique l'équipe. Car c'est là le concept clé de ce jeu Play-to-Save, le premier du genre dans l'écosystème Web3. My Lovely Planet est conçu comme un jeu particulièrement ludique dans lequel les joueurs s'amusent à personnaliser leur île en la rendant plus verte. Toutes les actions menées dans le jeu sont ensuite réalisées sur le terrain par les ONG partenaires.
Concrètement, si le joueur plante des arbres, My Lonely Planet va financer une organisation environnementale qui va planter des arbres dans le monde réel. La question que beaucoup se pose ici concerne le financement de ces actions. En plus des 40 % de l'offre totale de MLC allouée à l'Environmental Treasury,  My Lovely Planet génère aussi des revenus grâce aux publicités et aux achats In-App (dans l'application). 15 % des bénéfices sont réservés aux financements des projets à soutenir. Le marché du gaming sur mobile génère tous les ans plus de 90 milliards de dollars sur ce business modèle Ads + Achats. L'équipe explorera d'autres sources de revenus au fur et à mesure que le projet se développe.
Intégrez une communauté mondiale engagée
En participant à la vente publique de My Lovely Coin (MLC), vous investissez non seulement dans un projet à impact, mais vous intégrez également une communauté qui vient amorcer une révolution environnementale 3.0. Bien que le jeu n'en soit encore qu'à sa version bêta, My Lovely Planet compte déjà 8 000 joueurs actifs et possède une communauté engagée de 520 000 abonnés sur TikTok.  
Pour l'équipe, la communauté est au cœur du projet. C'est grâce à elle que les actions environnementales prennent vie. Dans un souci de transparence, My Lovely Planet effectuera un rapport régulier pour tout don et financement alloué aux projets environnementaux. L'équipe rendra également compte de l'impact réel des actions menées sur terrain.  
Conclusion
En investissant dans My Lovely Planet, vous avez la possibilité d'agir contre le changement climatique. En soutenant ce type d'initiatives vertes et révolutionnaires, vous aidez à réduire notre empreinte carbone collective. La croissance des investissements verts révèle déjà un début de changement, mais encore faut-il que les projets aient un réel impact sur la planète. Le chemin est encore long, mais chacun de nous peut faire bouger les choses. Rendez-vous donc sur My Lovely Planet et la page de sa public sale si vous souhaitez intégrer le mouvement !
Recevez un condensé de l'actualité dans le monde des cryptomonnaies en vous abonnant à notre nouveau service de newsletter quotidienne et hebdomadaire pour ne rien manquer de l'essentiel Cointribune !
Elina S.
Je tombe par hasard dans la cryptosphère et assiste à la
naissance d'une ère nouvelle, celle de la DeFi. Tout est question de liberté
économique, de transparence et d'opportunités accessibles à tous. Voilà un univers qui gagne à être connu.
Largest Crypto Gainers Right this moment on DEXTools – BEAR, CAL, MANE


Bitcoin (BTC) is consolidating within the $26,600s on Friday, roughly according to the place it began the week as merchants digest latest macro developments, like an extra push larger in US yields to new multi-year/decade highs in wake of this week's hawkish leaning Fed policy announcement.
The world's largest cryptocurrency by market capitalization stays wedged near the center of a multi-week $24,750-$28,500ish vary as markets assess the evolving macro backdrop (monetary circumstances stay tight) and themes resembling institutional adoption and US crypto regulatory coverage.
Ether (ETH), in the meantime, hasn't been holding up so nicely and was final buying and selling slightly below $1,600, over 2% down on the week, following this week's failure to push again above the 21DMA, which has been performing as sturdy resistance in latest months.
Ether bears proceed to eye a possible retest of summer season lows beneath $1,550.
Subdued buying and selling circumstances in main blue chip crypto markets imply that merchants proceed turning to shitcoin and meme coin markets within the hunt for volatility.
Listed below are a number of the best-performing low-cap cash, as per DEXTools.
The Bear ($BEAR)
A brand new shitcoin referred to as The Bear ($BEAR) that solely launched just a few hours in the past has seen an explosive begin to life.
As per DEXTools, $BEAR is already up round 300% versus its DEX launch worth and has already been capable of attain a market cap of over $330,000 amid $1.6 million in buying and selling volumes.
The token has over $300,000 in locked liquidity and no regarding features to its token contract, as per DEXTools' safety audit, suggesting the token most likely isn't a rip-off.
Calcium ($CAL)
A shitcoin that launched on Thursday referred to as Calcium ($CAL) has seen an enormous pullback from yesterday's highs.
$CAL was final buying and selling round $0.0045 per token, down from as excessive as $0.017 on Thursday.
Nonetheless, its worth stays larger by over 340% up to now 24 hours, making it among the finest performers, as per DEXTools.
Its market cap was final simply over $900,000 amid $5.7 million in 24-hour buying and selling volumes, with the token having now managed to build up greater than 1,700 holders.
The token has $130,000 in unlocked liquidity, which suggests it might nonetheless be a rug pull.
However the token has no regarding features to its contract, as per the DEXTools security audit.
MANE ($MANE)
A shitcoin referred to as $MANE that launched earlier within the day is pulling again from its earlier highs.
$MANE was final round $0.0047, having hit highs earlier within the session round $0.008 amid buying and selling volumes of $1.9 million up to now on the day.
Its market cap was final round $470,000, with the token having gathered over 400 holders.
$MANE has practically $100,000 in partially locked liquidity and has 5 contract alerts, as per the DEXTools safety audit, which embody that the token's transaction tax (at present 0%) could also be modifiable and that transfers is perhaps pausable.
Crypto Options to Contemplate
Shitcoins are very dangerous, given most haven't any actual worth proposition.
For these searching for a fair higher likelihood of near-term positive aspects, an alternate high-risk-high-reward funding technique to contemplate is getting concerned in crypto presales.
That is the place buyers purchase the tokens of up-start crypto initiatives to assist fund their growth.
These tokens are practically at all times bought very low cost and there's a lengthy historical past of presales delivering enormous exponential positive aspects to early buyers.
Many of those initiatives have improbable groups behind them and a terrific imaginative and prescient to ship a revolutionary crypto utility/platform.
If an investor can establish such initiatives, the danger/reward of their presale funding is excellent.
The staff at Cryptonews spends lots of time combing by means of presale initiatives to assist buyers out.
Here's a record of 15 of what the mission deems as one of the best crypto presales of 2023.
See the 15 Cryptocurrencies
Disclaimer: Crypto is a high-risk asset class. This text is offered for informational functions and doesn't represent funding recommendation. You may lose all your capital.