Rachat de Man Utd: Al-Khelaifi nie toute implication dans la candidature de Sheikh Jassim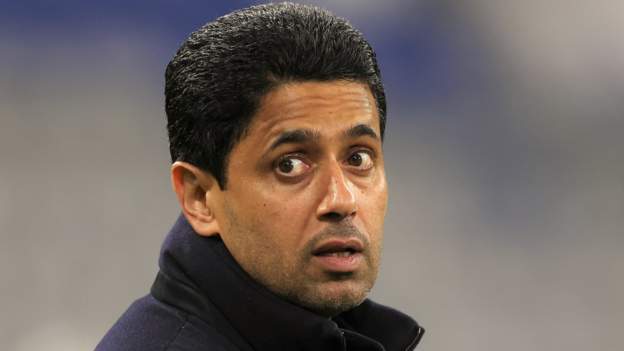 Le président du Paris St-Germain, Nasser Al-Khelaifi, a déclaré qu'il n'avait rien à voir avec la prise de contrôle de Manchester United.
BBC Sport comprend qu'Al-Khelaifi a été contacté par la famille Glazer il y a un mois alors que les propriétaires de United tentaient de convaincre le banquier qatari Sheikh Jassim bin Hamad Al Thani d'augmenter son offre.
La conversation avec Al-Khelaifi a conduit à des suggestions d'une implication plus large du Qatar dans la candidature de Sheikh Jassim.
Cheikh Jassim a déclaré à plusieurs reprises que son offre avait été faite à titre personnel.
S'exprimant à Istanbul avant la finale de la Ligue des champions après une réunion de l'influente Association des clubs européens (ECA) qu'il préside, Al-Khelaifi a déclaré qu'il n'avait rien fait d'inhabituel et que son implication était uniquement avec le PSG.
"Le Paris St-Germain est mon club, dans mon cœur, et je n'ai rien à voir avec Manchester United", a-t-il déclaré.
"Ça me fait rire. Je suis Qatari, n'est-ce pas ? Si les gens me demandent mon avis, je leur répondrai à coup sûr – et c'est ce qu'ils font.
"Je parle de n'importe qui, pas seulement de Manchester United. Je vais leur donner l'expérience que j'ai. C'est tout."
La semaine dernière, Sheikh Jassim a déposé sa cinquième offre pour United, qui reste sur la table malgré les suggestions selon lesquelles il ne s'engagerait pas dans le processus au-delà de vendredi dernier.
Il veut acheter 100% de United, tandis que le soumissionnaire rival Sir Jim Ratcliffe et son groupe Ineos sont prêts à obtenir une participation majoritaire, ce qui permettrait à la famille Glazer de conserver une représentation dans une certaine mesure.
Al Khelaifi est le président de beIN Sport, un diffuseur public basé à Doha, ainsi que le patron de Qatari Sports Investments.
Il a démontré sa volonté d'offrir des conseils en révélant le mois dernier qu'il avait parlé à un groupe riche qui voulait des informations sur un investissement potentiel dans deux clubs anglais.
"Je ne vais pas les mentionner mais l'un était petit, l'autre grand", a-t-il déclaré. "Je ne sais pas qui était le gars. Mais je lui ai dit mon opinion."
Al-Khelaifi, qui nie avoir rencontré le groupe Raine qui gère le processus de vente de United, dit qu'il se félicite de nouveaux investissements dans le jeu, du Qatar et d'ailleurs.
"Je veux le meilleur pour les compétitions européennes", a-t-il déclaré.
"Si c'est dans le cadre du règlement, pourquoi pas ? Pas seulement les Qataris, tout le monde."
La Juventus bienvenue en ECA après une "erreur" en Super League
Al-Khelaifi a également abordé les derniers développements concernant les trois membres restants de la Super League européenne et Demande de pourparlers de la Juventus avec le Real Madrid et Barcelone, qui, espèrent-ils, les conduira à abandonner le projet.
Les géants de la Serie A ont été embourbés dans une controverse financière ces derniers mois en raison de méthodes comptables qui ont finalement conduit à une déduction de 10 points, ce qui leur a coûté une place en Ligue des champions.
La Juventus était auparavant restée fidèle au projet de Super League en attendant une décision de la Cour de justice européenne sur la question de savoir si l'UEFA, l'instance dirigeante du football européen, a le droit d'occuper une position de monopole.
Cependant, la Juventus s'est maintenant éloignée de cette position et Al-Khelaifi pense que c'est la bonne chose à faire.
"C'est une décision intelligente pour eux de partir", a-t-il déclaré. "Il n'y a pas d'avenir là-bas. Ils perdent du temps, de l'énergie et de l'argent.
"Il est logique de retourner dans la famille. Tout le monde fait des erreurs. Mais les gens intelligents réalisent leurs erreurs et les corrigent. Nous accueillons tous ceux qui réalisent leurs erreurs. C'est ce qu'ils doivent faire."


Garth Crooks' Team of the Week: Martinez, Evans, Trippier, Bissouma, Foden, Son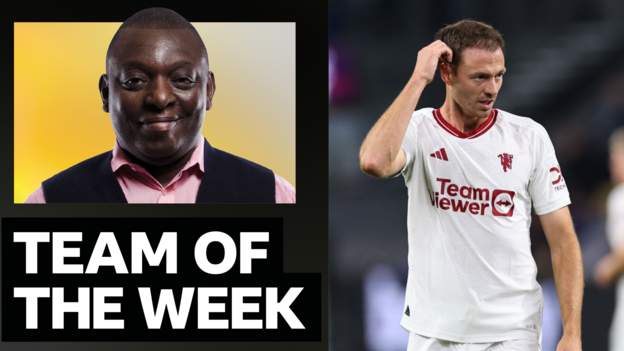 After every weekend of the Premier League, BBC football pundit Garth Crooks gathers his thoughts and gives you his Team of the Week.
Here are this week's choices. And as ever, Garth also discusses the game's big talking points in the Crooks of the Matter.
Emiliano Martinez (Aston Villa): The save by Martinez from Chelsea striker Nicolas Jackson was so important and at a crucial time in Sunday's match. Robert Sanchez was also showing good form in the Chelsea goal but was eventually, like so many of his Chelsea team-mates, found wanting when Ollie Watkins' effort went through his legs from a tight angle at the near post. Watkins shouldn't be scoring from there.
Martinez meanwhile pulled off the save of the match, with Ben Chilwell clean through. The Argentine managed a superb one-handed save that secured Villa the points. When your team is struggling – and Chelsea are – you need your keeper to pull you out of the mire. The only difference on the day between the two teams was the keepers.
Kieran Trippier (Newcastle): This was an impressive victory by Newcastle. They were involved in a goalless draw and a titanic tussle in the Champions League against AC Milan in midweek and dealt with the fixture extremely well.
To then go to Bramall Lane and be 3-0 up after just 36 minutes and 6-0 after 70 suggests just how far the Magpies have come since their ascent to the top flight and how far Sheffield United need to improve if they have any chance of staying in the Premier League.
Sheffield United never laid a glove on Newcastle. It was like a battle-hardened team playing a side just coming to terms with the division. As for Newcastle's captain Tripper, his leadership knows no bounds.
James Tarkowski (Everton): Crisis, what crisis? Not if Everton keep playing like that. The urgency with which Tarkowski raced back to defend an attack in their win at Brentford was expected, but to nudge the ball expertly away from the oncoming Keane Lewis-Potter, who was about to tap the ball into the net, was a turning point in the game.
Brentford had already equalised and looked like they had Everton on toast. Had it not been for an outstanding all-round display by Tarkowski, Everton would have been nursing another defeat. The former Brentford defender didn't mind celebrating his well-taken headed goal against his old club either. That's always a good sign. I never understood players who scored against their old club and thought it was somehow a betrayal.
Jonny Evans (Manchester United): I overheard a conversation recently where an Arsenal supporter said how surprised he was to see Evans come on against his team a few weeks ago and I must say so was I. However, he went on to suggest that Evans was, at the tender age of 35, no longer good enough for Manchester United.
Well the point of view couldn't have been further from the truth. Evans was the star performer against Burnley. The Northern Ireland international had a headed goal disallowed, played the most exquisite pass to Bruno Fernandes to volley home and helped United keep a clean sheet.
I'm not entirely sure what Arsenal fans know about top-class centre-backs anyway. The last ones they had were Tony Adams, Steve Bould and Sol Campbell and they all played into their thirties.
Kyle Walker (Manchester City): City demolished Red Star Belgrade in the Champions League in midweek and had no trouble at all doing the same with Nottingham Forest a few days later.
The desire by Walker to yet again get in behind the opposition defence and then watch a 40-yard pass from Rodri fall out of the sky onto his foot for the perfect volleyed lay-off for Phil Foden to finish was football at its finest.
Walker has started the season for club and country like a dream. I said last week the City captain is my early candidate for footballer of the year and we're only in September. More candidates are sure to follow but Walker's the only one on my list so far.
Bruno Fernandes (Manchester United): What a cracking finish by Fernandes. I was keen to see how United might react after their Champions League defeat in midweek against Bayern Munich.
Admittedly they were playing Burnley, who are finding their time in the Premier League somewhat challenging, but this was about nerve and bottle for United as much as it was about performance. United stood up to the test and deserved the victory.
The tackle by Casemiro on Luca Koleosho, who showed some fabulous footwork as he entered the box with the ball at his feet, was sensational. All credit to referee Tony Harrington who was quite right to wave away any appeals.
Yves Bissouma (Tottenham): The mere fact that this lad struggled to get a regular game under Antonio Conte is more a reflection on the high-profile Italian manager than it was on the Mali international. Bissouma has been a revelation for Tottenham so far this season and played against Arsenal with the sort of passion you expect from a midfield player in a north London derby.
The player's ability to engage the opposition and at the same time cover ground has been outstanding. A draw against Arsenal was probably a fair result but the Gunners couldn't have screamed if Tottenham had come away with all three points.
Anthony Gordon (Newcastle): This is a different player for Newcastle than I saw for Everton. Not only does Gordon look a better player in the colours of the North-East club, his performance in midweek against AC Milan in the Champions League proved it.
Gordon started on the bench for Newcastle against a Sheffield United side in desperate need of points – hardly surprising bearing in mind how hard he worked in Milan. But, having come on for the injured Harvey Barnes after just 12 minutes, Gordon practically ran the show in what turned out to be an 8-0 romp. I wasn't convinced by Gordon's transfer to Newcastle but manager Eddie Howe obviously saw something I didn't.
Abdoulaye Doucoure (Everton): Brentford may have only lost one of their previous 18 home league games but that didn't cut any ice with Everton. The nod down by Tarkowski was precise but the finish by Doucoure for Everton's opening goal was superb.
I've seen the Mali international sky opportunities like that before but not on this occasion. It would appear a masterstroke by manager Sean Dyche to move Doucoure further up the field where his height and presence is clearly proving to be a problem for the opposition. It certainly did against Brentford.
Phil Foden (Manchester City): We are six games into the season and Foden has only scored one goal for City. You wouldn't have thought so the way he struck his shot to put the league champions ahead against Nottingham Forest. City at this stage looked imperious.
However the reaction by Rodri on Morgan Gibbs-White, and Ederson's extraordinary and unnecessary response to a perfectly reasonable attempt by Taiwo Awoniyi to place the ball over the oncoming Manchester City goalkeeper, was not just temperamental but juvenile.
I sincerely hope City are not becoming prima donnas. They might be the best team in Europe but that doesn't mean the opposition can't tackle them. It also means that on occasions those tackles will hurt and you might get your hair ruffled.
Son Heung-min (Tottenham): This was an impressive Tottenham performance against their north London rivals. To go behind twice away at Emirates Stadium having had the most shocking penalty decision awarded against you takes some steel and Son displayed plenty of it.
Since the departure of Harry Kane to Bayern Munich, I detect a maturity in Son's game I haven't seen before – I also see a better team player this season. Both of Tottenham's goals were brilliantly taken by Son. Spurs didn't sulk over the awarded penalty either but had every right to make a fuss. The rule is a joke and must be scrapped. Read why I think the rule is destroying football in the Crooks of the Matter below.
The Crooks of the Matter
How have we got here? Football fans suffered VAR, with its intrusive searchlight, going about the match looking for incidents that no-one else had seen – and certainly weren't clear and obvious – for two seasons before some semblance of order was restored. It had the vast majority of us incandescent with rage and had fans chanting exactly what they thought of the technology.
We now, for some inexplicable reason, have to suffer a rule change where if the ball strikes a player's hand or arm, whether its intentional or not, is a penalty. What was wrong with the original handball rule in the first place?
I can't remember a player, coach, manager or football fan stating that they were dissatisfied with the original rule. Why are football's bureaucrats interfering with the same rules that have successfully served the industry for generations?
They have now created such a febrile atmosphere at grounds. Referees are now compelled to stop the game every time the ball strikes a player's arm regardless of the speed the ball is travelling or whether the player can get his arm out of the way or not.
Players are now asking for penalties regardless of whether a player has gained a material advantage while referees are taking an age to make a decision. Surely if a referee is having to take any time to make up his mind there must be sufficient doubt not to give the penalty at all.
When elder statesmen like Crystal Palace manager Roy Hodgson make it clear that he has no interest in winning football matches based on bogus penalty decisions, we begin to understand the depth of feeling among some managers about this ridiculous rule. It's time that more managers spoke out and saved us from this absurd nonsense.