Real Madrid v Manchester City: comment Erling Haaland est devenu un phénomène du football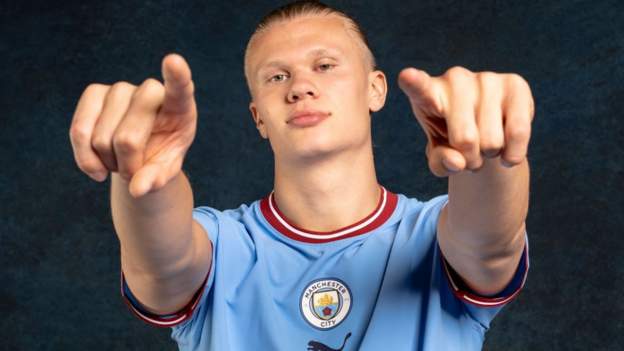 Par où commencer avec le phénomène qu'est Erling Haaland ?
Le Norvégien de 22 ans a déjà marqué plus de buts en Premier League que quiconque avant lui et n'est que le deuxième joueur de l'histoire de l'élite anglaise à marquer plus de 50 fois dans toutes les compétitions – et le premier depuis 95 ans.
Tout cela avec un potentiel de huit matchs restants dans la campagne et lors de sa première saison en Premier League après son transfert à Manchester City du Borussia Dortmund pour un montant initial de 51,2 millions de livres sterling l'été dernier.
Les exploits prolifiques de Haaland ont aidé les champions à revenir en tête du classement et à viser un triplé, avec une finale de la FA Cup et deux demi-finales de la Ligue des champions contre le Real Madrid à l'horizon.
Haaland and Co se rendra mardi au Bernabeu pour le match aller contre les champions d'Europe en pleine confiance, cela peut être leur année.
Depuis la gestion de Lionel Messi à Barcelone, l'approche de Pep Guardiola n'a pas été davantage influencée par la présence d'un seul joueur, mais ce qui est effrayant pour le reste de l'Europe, c'est que le meilleur de Haaland pourrait être encore à venir.
Alors, comment est-il devenu le joueur qu'il est aujourd'hui ?
Battre des records du monde à cinq ans
Né à Leeds en 2000, le fils de l'ancien défenseur de Nottingham Forest, Leeds et Manchester City Alf-Inge Haaland et de l'heptathlète Gry Marita Braut semblait destiné à une carrière sportive réussie dès son plus jeune âge.
En 2006, il a réalisé un record du monde dans sa catégorie d'âge au saut en longueur debout avec un saut de 1,63 mètre. Il avait cinq ans.
Au niveau des jeunes – après avoir déménagé dans la ville natale norvégienne de ses parents, Bryne, à l'âge de trois ans – il était un ailier maigre, rapide et incroyablement dévoué.
Et même alors, Haaland était un étudiant passionné du jeu, s'inspirant de Zlatan Ibrahimovic, Robin van Persie, Jamie Vardy, Messi et Mario Balotelli.
Après avoir surveillé de près son frère aîné Astor – et augmenté la pression sur lui pour devenir un athlète professionnel, ce qui ne s'est pas produit – les parents de Haaland ont adopté une approche plus détendue avec le jeune frère.
Ils ont permis à Erling de se développer plus naturellement et, à mesure qu'il gagnait en confiance, il a fait de même en taille et en stature à Byrne, son club d'enfance où il est passé par l'académie.
Désormais un imposant avant-centre de 6 pieds 4 pouces, la poussée de croissance de Haaland au milieu de son adolescence – qui a entraîné les douleurs inévitables – a apporté un physique qui se mariait bien avec les attributs qu'il avait déjà pour devenir footballeur professionnel; capacité technique, sens tactique et la bonne mentalité.
"Je fais les mêmes descentes qu'à 13 ans", dit-il.
L'entraîneur Alf-Ingve Berntsen, qui l'a entraîné pendant huit ans à Bryne, a déclaré : "A 13 ans, je voyais déjà que ce gamin allait faire partie de l'équipe nationale norvégienne avec son éthique de travail et son sens tactique très particuliers."
Un passage à Molde entre 2017 et 2019 sous la tutelle d'Ole Gunnar Solskjaer, qui lui a consacré des heures à Haaland sur une base individuelle, l'a aidé à se développer en tant que finisseur car à cette époque, c'était quelque chose qui ne venait pas naturellement à lui.
Une fois qu'il est devenu clair qu'il voulait être un professionnel, un plan stratégique de cinq ans a été préparé par lui et son père, qui comprenait deux ans à Molde pour affiner les points les plus fins de son jeu et jouer autant de matchs que possible. Les buts ont coulé – tout comme l'intérêt d'ailleurs.
Haaland a déménagé au Red Bull Salzburg en 2019, marquant 25 buts en 23 matches, dont un triplé de 45 minutes lors de ses débuts en Ligue des champions contre Genk, ce qui a servi de preuve concluante qu'il appartenait à ce niveau.
De là, il a déménagé au Borussia Dortmund pour environ 20 millions d'euros. Malgré l'intérêt sérieux de Manchester United et de la Juventus, l'attaquant a choisi le club allemand en gardant à l'esprit le temps de jeu qu'il y obtiendrait.
Commençant par un triplé de 23 minutes lors de ses débuts en tant que remplaçant en seconde période, Haaland a marqué 86 buts en 89 apparitions à Dortmund. Ce n'était qu'une question de temps avant qu'il ne rejoigne l'un des plus grands clubs du monde – Manchester City ayant activé sa clause de libération de 60 millions d'euros (51,2 millions de livres sterling) l'été dernier.
Haaland n'aura que 26 ans à la fin de son contrat de cinq ans et beaucoup s'attendent à ce qu'il essaie ensuite son métier en Espagne et en Italie, avec son désir de réussir dans les plus grandes ligues du monde.
"Aucun joueur n'a autant influencé Guardiola depuis Messi"
Même Haaland lui-même est un peu surpris par la rapidité avec laquelle il a réussi au stade Etihad.
L'une des principales raisons de son succès est son entraîneur, Ivar Eggja, qui travaille en étroite collaboration avec son père et agit en tant que "facilitateur" pour l'attaquant – lui trouvant une maison, s'occupant de son alimentation et lui donnant tout ce dont il a besoin pour qu'il ne pense qu'au football.
Au moment où Haaland est arrivé à Manchester, il avait déjà tout en place.
Une autre clé est le fait qu'il n'est jamais satisfait – cherchant toujours à s'améliorer.
L'entraîneur italien de Manchester City, Mario Pafundi, le pousse mais l'aide aussi à comprendre son corps. Cela signifie que Haaland a jusqu'à présent évité les blessures qui l'ont retardé l'année dernière au Borussia Dortmund.
Il a gagné environ 12 kg de muscle au cours des 15 derniers mois grâce à une génétique privilégiée, un régime impliquant la consommation d'énormes quantités d'aliments de qualité, couplé à des circuits d'entraînement extrêmement exigeants et un style de vie détendu comprenant des périodes de méditation qu'il utilise pour s'assurer que son esprit est au bon endroit.
Il y avait des questions sur la façon dont Haaland s'intégrerait au style de jeu de Manchester City, dont la puissance vient du milieu de terrain, coupant les lignes et créant de l'espace derrière la défense adverse, tandis que les forces du Norvégien résident dans les transitions rapides.
Le style de jeu de City, lorsqu'il est plus mesuré, peut créer une déconnexion entre Haaland à l'avant et le reste de l'équipe, ce que Guardiola est conscient et souhaite éviter.
Après la défaite à Manchester United en janvier, le patron de City a admis que toute l'équipe devait impliquer davantage l'attaquant. Haaland était une figure périphérique n'ayant que quelques demi-chances et seulement 19 touches dans le match.
Le défi pour Guardiola est de jouer le type de jeu qu'il veut, tout en veillant à ce que Haaland soit engagé, occupé, pleinement concentré et généralement heureux, même si cela signifie parfois faire une passe que vous n'envisageriez pas normalement.
Le personnel d'entraîneurs a parfois demandé à Kevin de Bruyne ou Bernardo Silva de transmettre des balles à Haaland qu'ils ne joueraient normalement pas pour aucune autre raison que de s'assurer qu'il reste pleinement connecté à la procédure.
Il se sent toujours frustré lorsqu'il n'obtient pas le service que ses courses réclament, alors qu'il sait également qu'il pourrait être plus utile à ses coéquipiers dans et autour de la surface et hors du ballon.
"Passionné par les pouvoirs de la méditation"
"Haaland vit 24 heures sur 24 pour son métier, son travail, sa passion, ce qu'il aime", a déclaré Guardiola.
Ceux qui le connaissent parlent de quelqu'un qui est poli, humble, fondé et sûr de lui – certainement pas quelqu'un qui est égoïste ou arrogant.
Fanatique en tant qu'entraîneur et invariablement le premier arrivé et le dernier parti, Haaland est conscient de la nécessité de s'immerger dans les rigueurs nécessaires requises. Cela comprend des massages approfondis et des bains de glace, toutes les leçons qu'il a apprises de la scolarité de son père.
Invariablement positif, optimiste et souriant, il aime la cuisine italienne, le vin italien, bien manger et a peu de temps pour les réseaux sociaux. Il ne lit pas ce qui est écrit sur lui parce qu'il se rend compte qu'il est inutile d'essayer de contrôler ces choses que vous ne pouvez pas contrôler.
Il a la bonne confiance en lui et essaie de prospérer grâce à la pression qui accompagne le territoire.
Pour l'aider à faire face à cette pression, il est passionné par les pouvoirs de la méditation et sa capacité à éliminer le stress de sa vie et également conscient de la nécessité d'un sommeil de bonne qualité.
Ce n'est pas un oiseau de nuit, ni un grand amateur de jeux vidéo ou de cinéma, préférant plutôt – lorsqu'il ne s'entraîne pas – vivre une vie tranquille à la maison, reposante.
L'une des grandes forces de Haaland est sa capacité à se débarrasser de ses doutes. Il est l'un des athlètes les plus surveillés et les mieux payés au monde, et il roule avec, comme s'il ne le remarquait même pas.
Il n'a pas peur de faire des erreurs et est infailliblement positif en sachant que même s'il ne réussit pas, il aura toujours une autre chance, et une autre, et une autre. Il n'est pas le genre de personne à ressasser les malheurs du passé.
Haaland est certainement conscient que, aussi énorme soit-il, il est toujours un travail en cours, ce qui est une perspective effrayante pour le reste du monde.


Newcastle 1-0 Man Utd: Anthony Gordon impresses in Magpies win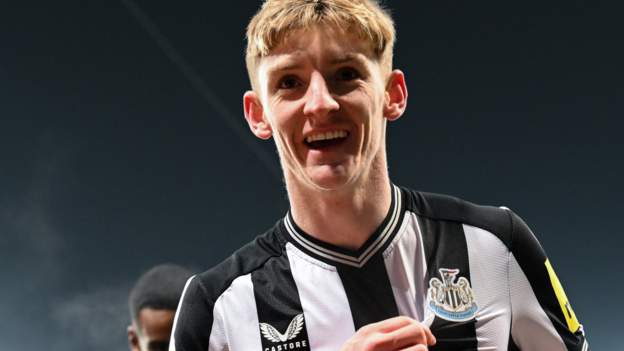 Just over two hours after Gareth Southgate learned who England's group-stage opponents will be at Euro 2024 next summer, what promises to be one of his major selection issues was put into sharp focus at St James' Park.
Anthony Gordon didn't just score the winner as tNewcastle beat Manchester United, in partnership with Tino Livramento he was also responsible for taking the visitors apart down the hosts' left flank, a status that lasted most of the game.
It did not go unnoticed that one of the reasons for this was the difficulty Marcus Rashford was experiencing after being switched from his preferred left side to the right, to accommodate Alejandro Garnacho.
Going forward, Gordon was everything Rashford wasn't – incisive, threatening and dangerous.
Going backwards, Rashford failed to track Livramento and was exposed trying. As former Newcastle forward Alan Shearer put it on Match of the Day: "He didn't look at it and didn't look interested."
Manchester United manager Erik ten Hag didn't want to get into the details around Rashford's collapse in form. Opposite number Eddie Howe skirted around the whole England issue.
But it exists. Summarising the game for TNT Sports, Jermaine Jenas underlined the issue.
"Gareth Southgate has to give some serious consideration to selecting Anthony Gordon," he said.
"We know he is loyal to players he has selected before, but compared to Marcus Rashford, his [Gordon's] work-rate is far superior at the moment. You cannot ignore what Gordon is doing."
Ten Hag will talk to Rashford about form – not the media
Last season, Rashford scored 30 goals. In the post-World Cup period in particular, he was lethal. This term, he has scored twice, against Arsenal at the beginning of September and a penalty last week at Everton.
When asked about Rashford's form by TNT Sports, Ten Hag's reply was cryptic.
"I talk with him about that, not the media," said the Dutchman.
Pressed further in his post-match press conference, Ten Hag was slightly more expansive, although it was in defence of a player for whom the underlying acceptance is that he is way below the standards he is capable of.
"I know this issue is coming up," he said. "Marcus is investing a lot. We support him and he will return to his form. He will recover and he gets all our support."
It is March before Southgate has to pick another squad and evidently form can turn around quite quickly.
However, it is impossible not to compare Rashford's contribution with that of Gordon, who has now scored in four successive home Premier League games and added the name of Manchester United to that of Arsenal and Liverpool as proof of his impact against the biggest teams.
"He is playing at a very high level and has been all season," said Howe. "Now he is getting the goals and you need headlines if you are to force your way into the England squad with the competition there is."
Gordon has 'burning motivation to be the best'
Gordon wasn't an instant success after arriving at St James' Park from Everton in January.
Indeed, until the last day of the season, when he scored against Chelsea, many wondered whether his end product would prove to be worth the £45m Howe committed on the 22-year-old, who is attracting admiring glances from the Scottish FA.
"You sign players because you like their ability," said Howe. "When you bring them into the group, there is always a period where you have to earn their trust and them you.
"There was no stage where I didn't trust him. He just had to learn how we did things."
That process is complete, with Howe believing there is more to come from a player who has shown a pleasing attitude towards self-improvement.
"There is a lot more to come but I would say that," added Howe.
"Anthony has a desire to get better every day. Sometimes we have to take him off the training pitch when we feel he has done enough.
"He has this burning motivation to be the best. We are loving working with him.
"There is an openness and inquisitiveness. He wants to ask questions, start dialogue and debate his game. That is great from our perspective."