San Siro : Quel avenir pour l'AC Milan et le stade de l'Inter ?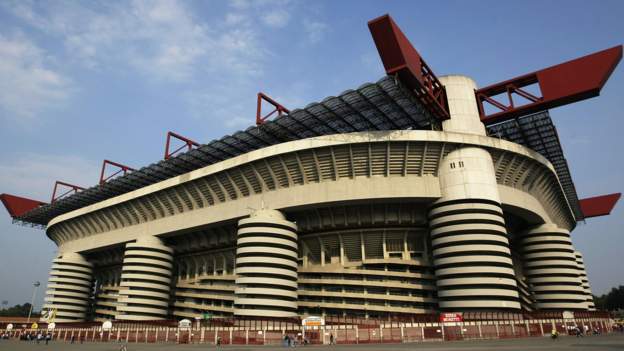 Les yeux du monde seront tournés vers le San Siro au cours de la semaine prochaine.
La demi-finale de la Ligue des champions entre l'AC Milan et l'Inter Milan ramène l'attention sur une ville qui était habituée à être le centre d'attention du football européen.
Cependant, malgré le partage de 10 victoires en Coupe d'Europe – les sept succès de l'AC Milan sont deuxièmes derrière le Real Madrid dans la liste de tous les temps – aucun n'a atteint la demi-finale d'une compétition européenne depuis 2010.
Deux décennies se sont écoulées depuis leur rencontre en demi-finale de la Ligue des champions, quand le but à l'extérieur d'Andriy Shevchenko s'est avéré décisif pour l'ACqui a ensuite battu la Juventus aux tirs au but à Old Trafford en finale.
L'égalité permettra les prises de vue emblématiques d'un stade – Stadio Giuseppe Meazza pour lui donner le nom approprié – connu dans le monde entier pour ses poutres rouges distinctives, qui a été initialement ouvert en 1926 et récemment modernisé pour la Coupe du monde 1990.
De l'extérieur, la structure est impressionnante. Mais à l'intérieur, c'est une relique. Aucun des deux clubs n'y voit d'avenir mais, comme le souligne BBC Sport, sortir s'avère problématique.
Les plans de la cathédrale s'arrêtent
L'Inter a commencé à parler de la possibilité de quitter San Siro il y a huit ans. Il y a quatre ans, ils se sont associés à l'AC Milan pour déterminer que c'était quelque chose qui devait arriver.
Structurellement, le stade actuel coûterait cher à rénover. Esthétiquement, les coûts monteraient en flèche. De nombreux sièges restent de la mise à niveau de 1990. Les sanitaires sont basiques. Les deux clubs regardent avec envie la façon dont les clubs anglais peuvent augmenter leurs revenus grâce à leurs installations d'entreprise.
En 2022, la Deloitte Money League a montré que l'Inter avait généré 44 millions d'euros (38,48 millions de livres sterling) de revenus le jour du match. L'AC Milan a généré 32 millions d'euros (27,99 millions de livres sterling). En revanche, Tottenham, dans son nouveau stade, généré 125 millions d'euros (109,3 millions de livres sterling).
Une partie de cette disparité était due aux réglementations Covid qui durent plus longtemps en Italie, mais néanmoins, aucun club de Milan ne peut se rapprocher des revenus de Tottenham le jour du match avec le stade configuré comme il est.
Les clubs ont proposé une solution.
Après avoir lancé un appel d'offres mondial, les concepteurs de stade renommés Populous ont proposé le modèle choisi. Surnommé « la cathédrale », un tout nouveau stade devait être construit sur un terrain à moins de 1 km de la structure actuelle.
En annonçant les plans en décembre 2021, les deux clubs ont déclaré que la zone qui l'entoure serait "dédiée au sport et aux loisirs", comprendrait 110 000 m² d'espaces verts et serait la première "arène à zéro carbone au monde".
La capacité du stade serait de 65 000, soit 10 000 de moins que le San Siro. Le plan était de présenter les propositions finales fin 2022.
Mais le projet est au point mort. Les protestations, les appels et les objections l'ont mis à l'arrêt. Aucun des deux clubs n'était disposé à investir quoi que ce soit pour faire avancer le projet sans aucune garantie qu'il serait finalement autorisé à être construit.
En septembre dernier, la municipalité a ouvert un débat public sur le stade qui a duré jusqu'en novembre. Ils ont ensuite informé les clubs que des modifications devaient être apportées à leurs propositions initiales.
À ce moment-là, l'Inter et AC commençaient à chercher des alternatives.
L'Inter étudie un site à Assago, une petite ville au sud de Milan. AC évalue plusieurs options, à San Donato et Sesto San Giovanni, tous deux à la périphérie de Milan, et La Maura, site de l'hippodrome proche de San Siro.
Cependant, il y a des problèmes avec les trois options. Les préoccupations environnementales peuvent saboter ce dernier.
Des questions ont également été soulevées concernant le financement de projets autonomes, bien que l'Inter soit catégorique sur le fait qu'elle a accès au financement et que les propriétaires américains de l'AC Milan, Red Bird, se sont engagés à donner suite à la conviction des prédécesseurs d'Elliott Investment qu'un nouveau stade est essentiel pour que le club puisse suivre le rythme. autres poids lourds européens.
Que se passe-t-il maintenant ?
L'Inter et l'AC Milan partagent le Guiseppe Meazza depuis 1947. Évidemment, il y a des avantages et des inconvénients à cette situation. Cela permet de partager les coûts mais signifie que certaines parties du stade doivent être modifiées pour représenter les couleurs du club qui joue réellement.
Être libre de ces restrictions en faisant cavalier seul est attrayant. Cependant, il est également coûteux.
De plus, comme la municipalité a également une contribution importante, il est impossible de conclure des accords lucratifs sur les droits de dénomination.
Mais seuls quatre clubs de Serie A – Juventus, Atalanta, Udinese et Sassuolo – jouent sur leur "propre" terrain et il semble que le duo milanais préférerait rester ensemble dans la région de San Siro si c'était possible.
Le mois dernier, le maire Beppe Sala leur a donné 90 jours pour déclarer s'ils allaient apporter ou non les modifications demandées à la cathédrale.
Il est admis que les plans initiaux devront être considérablement modifiés, mais les clubs ont déjà demandé une prolongation car ils estiment ne pas avoir eu suffisamment de temps pour à la fois évaluer les aspects pratiques des changements qu'on leur demande d'apporter et en déterminer la viabilité. des variantes.
Les problèmes pour toutes les parties sont complexes. Deux des plus grands clubs européens ont besoin d'un nouveau stade, les politiciens locaux savent que la sortie de la paire porterait un coup au prestige de la région et coûterait des revenus vitaux. Les discussions se poursuivent et aucune résolution n'est en vue.
En attendant, le San Siro reste tel qu'il est depuis 1990. Frappant à l'extérieur, une carcasse de béton en dessous.

Everton 3-0 Newcastle: Sean Dyche's side in 'psychologically massive' climb out of bottom three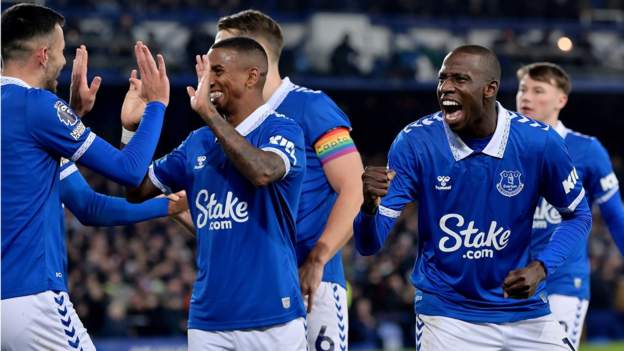 Just 20 days after being plunged into the relegation zone with a huge feeling of injustice, Everton are already out of it.
An unprecedented 10-point deduction saw them drop from 14th position to one place off the bottom but Sean Dyche's side are on the road to recovery.
The Toffees left it late on Thursday night to beat Newcastle 3-0 at Goodison Park, but the three points allowed them to leapfrog Luton Town and drag themselves out of the danger zone.
On moving out of the bottom three, Dyche told BBC Radio 5 Live: "We moved into it. Without those 10 points [deducted], we'd be in an amazing position – 20 points would be amazing relatively to the last two seasons here.
"We will see what the appeal brings. The mentality is key for me, we took a knock but there have been a lot of knocks here over the last couple of years.
"But the team mentality is growing. I can't emphasise it enough, the commitment to each other and the connection is a powerful thing because I know we've got quality."
Win a 'reward' for fans' backing
The feeling of injustice following the biggest sporting sanction handed down in top-flight history remains raw at Goodison Park.
Before the game, the Premier League anthem was loudly jeered once more while new protest cards were published and held aloft with 'Protecting the few, not the many' printed on them.
But the anger that had simmered beforehand turned to sheer joy by full-time.
Two players who have been so important under Dyche came to the fore once more, with Dwight McNeil scoring his 16th career goal, with 14 of those coming under the ex-Burnley boss, while Abdoulaye Doucoure netted his 10th under the manager.
There was time for summer signing Beto to get his first in the league too to give Everton a thoroughly deserved victory.
Everton came into the game following a 1-0 win at Nottingham Forest on Saturday and their away home has been excellent so far, but it is their troubles at home that has needed fixing.
They did this in emphatic fashion to collect just their second victory in front of their fans this season and achieve back-to-back league wins for the first time under Dyche.
The viewpoint from fans and pundits has been that is it a 'good season' to be docked points as Luton, Burnley and Sheffield United – who currently occupy the relegation spots – face an immediate return to the Championship.
Dyche said: "With so many enforced changes, I was so pleased. You have heard me talk about the mentality this season and you can sense a connected group. We are onto something.
"I don't change my storyline, my value is a season's work. The ups and downs of it are what you have to control as a manager and the results too but the end of the season is where it is count.
"The points [deduction] is done therefore let's get on with it and the players have been responsive to that and parked it.
"We cannot guarantee anything [deducted points] coming back but we have to keep playing hard like we were anyway. The performances levels have been good and them into winning performances.
"It was a good performance against Manchester United [a 3-0 defeat in their previous home game] and we backed that up with another two good performances.
"The amount of fans that get in here every time we play here is a reward for them. They have supported us without doubt in their numbers but also in voice."
Former Everton forward James McFadden, speaking on BBC Radio 5 Live, emphasised the importance of Thursday's win.
"Being out of the bottom three is massive for Everton," he said.
"This season they have created chance after chance, not taken them and not got the points their play has deserved – and it looked like it might be that way again.
"It's massive psychologically for them to get the win today."