Sarina Wiegman: 'Sometimes it's not beautiful', but England beat Scotland in Nations League opener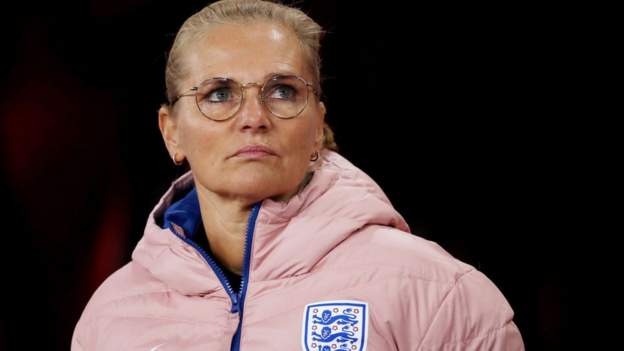 England manager Sarina Wiegman said "sometimes it doesn't look beautiful" after England did enough to beat Scotland and pick up their first points in the Women's Nations League.
European champions England were playing on home soil for the first time since their World Cup final defeat by Spain.
Goals from Lucy Bronze and Lauren Hemp helped them to a 2-1 win, but they were tested by Pedro Martinez Losa's side.
"Sometimes you just have to get through," added Wiegman.
The Women's Super League (WSL) season is yet to start and it is just over a month since England returned from Australia following their 1-0 defeat in the final by Spain.
A tight turnaround and numerous players still being in the midst of pre-season training will have impacted England's fluidity, but Wiegman said they "don't want to use that as an excuse".
The hosts had started brightly at Sunderland's Stadium of Light, but a goal from Kirsty Hanson in first-half stoppage-time led to a nervy ending as England clung on to their lead.
Hanson later hit the crossbar and England goalkeeper Mary Earps was forced into several saves – though England did have a goal disallowed either side of the break.
"After the first half we said we needed to be a little better connected in the final third, then our decision-making needed to be better. But I'm not sure that was just about getting the connections right," said Wiegman.
"Yes, it is a short turnaround, that's what we know. We also know that even though sometimes it doesn't look beautiful, you can still win the game.
"I'm very happy with three very important points. The Nations League started and you can see how competitive it is with the other results we have seen.
"Overall we kept the win and that's the most important thing. It was off the back of a World Cup, a very short turnaround and the players haven't played any competitive games yet – so I'm very happy."
'Really tough to recover from World Cup'
There were just three changes to the England side who started the World Cup final in Sydney on 20 August as midfielder Keira Walsh was ruled out through injury and striker Alessia Russo was rested.
Chelsea defender Jess Carter said it was "really tough" to reset having had little time off since their return from Australia.
"Scotland definitely proved to be a tough opponent today. Personally, I wasn't so happy with the performance from myself. On the ball, I definitely could have been better at times," added Carter.
"As a team we maybe got a bit sloppy and got a bit complacent, but obviously the three points were the most important thing and it's something to build on.
"Everyone has come back at different stages from the World Cup. Obviously it's [about] a bit of sharpness as well, but I think we can just do a lot better on the ball, regardless of where we are in the season.
"It's definitely really tough to recover from a tournament like that – a tournament of that intensity – and to be ready to go again.
"The tournament was mentally and physically exhausting. It's really tough to reset and get ready to go again in that time, and everyone is just doing the best they can to get back to a top level."


Premier League agrees record £6.7bn domestic TV rights deal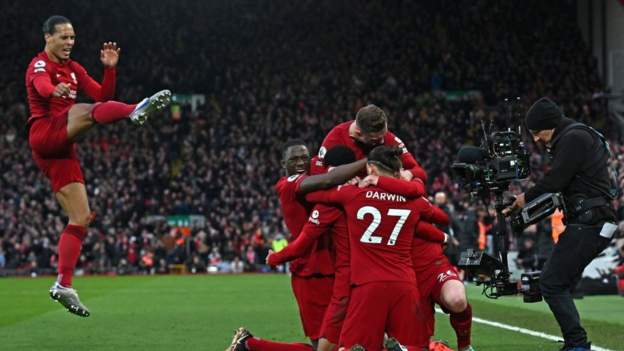 The Premier League has agreed a new record £6.7bn domestic television deal for Sky and TNT to show up to 270 live games a season.
The deal includes the BBC continuing to show highlights on Match of the Day.
The top flight said the deal, which covers the four years from the 2025-26 season, is the "largest sports media rights deal ever concluded in the UK".
The Saturday 3pm blackout will remain in place, but every 2pm Sunday kick-off will be televised.
The BBC's deal includes MOTD2 and Football Focus plus additional digital rights for its online platforms.
Sky has been awarded four of the five packages and will show a minimum of 215 matches a season including Saturday 5.30pm kick-offs, Sunday 2pm and 4.30pm kick-offs, plus evening games on Mondays and Fridays and three midweek rounds.
TNT will show a minimum of 52 matches a season including all 12.30pm kick-offs on Saturdays and two midweek match rounds.
Sky Sports will also broadcast all 10 matches on the final day of each season.
Amazon, which shows 20 matches per season under the league's current deal, has not secured rights in the new agreement.
This is the first time the Premier League has been through a tender process for its rights since 2018.
The current £5bn domestic TV rights deal, which expires at the end of the 2024-25 season, was allowed to be extended because of the Covid-19 pandemic.
The Premier League said the new deal will "provide financial certainty for clubs throughout professional football until at least 2029".
"The outcome of this process underlines the strength of the Premier League and is testament to our clubs, players and managers who continue to deliver the world's most competitive football in full stadiums, and to supporters, who create an unrivalled atmosphere every week," said Premier League chief executive Richard Masters.
Barbara Slater, Director, BBC Sport, said: "Match Of The Day remains enduringly popular with audiences and this new agreement with the Premier League is brilliant news for football fans all over the UK.
"For almost 60 years it has been the UK's most discussed football programme, delivering a complete digest of the weekend's action and this enhanced deal with more digital content means we can tell the story of the Premier League every day across BBC Sport platforms."
Analysis
BBC Sport's Simon Stone
Even though they are selling significantly more games for marginally more money, the Premier League will be privately satisfied with the figures given they believe additional growth in TV revenues over the medium term will come from the overseas market.
This announcement solidifies Sky's position as the main Premier League broadcaster partner, keeps TNT in the mix and will deliver more digital content to BBC Sport, which is part of its overall strategy in a period when it will also show highlights of the Champions League.
We are still to see the true emergence of streaming platforms as a player in the market for weekly content, with Amazon – who this week will screen 10 matches – dropping out after the Premier League opted to put its five midweek rounds into their packages, rather than selling them off individually, as was the case when they last properly negotiated its domestic TV rights in 2018.
The Premier League has confirmed the intention to screen all Sunday 2pm games, most of which involve clubs playing in either the Europa League or Europa Conference League the previous Thursday.
There is no wholesale switch to Saturday or Sunday nights, which had been feared, although there are some weekend matches that have been sold as part of the packages that do not have timeslots. It remains to be seen what happens with them. In Italy, two matches are routinely played with different kick-off times on Fridays and Mondays.
TNT retaining the 12:30pm kick-off slot on a Saturday points towards Sky continuing the current trend of screening EFL matches at that time.
However, there is no additional space created for the Women's Super League, which is why there have been suggestions it might benefit from using the 3pm 'blackout' slot.