Sir David Brailsford & Manchester United: What role will he have when Sir Jim Ratcliffe completes investment?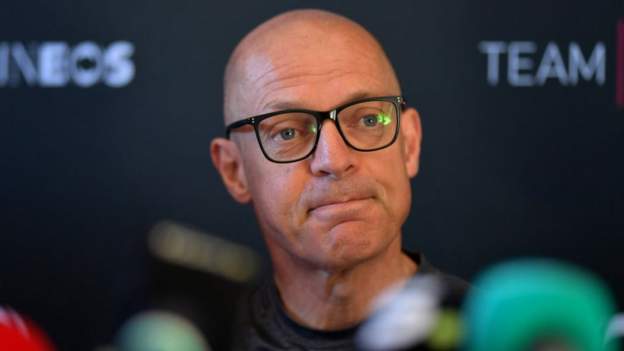 One of the most intriguing elements of Sir Jim Ratcliffe's imminent acquisition of 25% of Manchester United is the key role Sir David Brailsford is set to play at Old Trafford.
The Ineos director of sport is best known to a wider audience for having led the revival of British cycling.
But having overseen the petro-chemical company's sports portfolio since 2021, Brailsford is now set to sit on a powerful three-person committee running the football operations of one of the world's biggest clubs.
It is the latest remarkable twist in a career that has featured much success, but also considerable controversy.
So how did Brailsford, 59, come to be in this position? Can he overhaul the way United is run? Will it work? And is it a risk?
The 'marginal gains' man
According to one of the most highly respected figures in English football, Newcastle United's sporting director Dan Ashworth, Brailsford has what it takes to succeed in the sport.
"I've known Sir Dave for a number of years, working across various different sports and he is without doubt the best in world sport at creating high-performance culture and turning that into winning," Ashworth said, after inviting him to speak to his Newcastle squad last season.
So where did Brailsford's journey begin?
The Derbyshire-born coach started building his reputation as a high-performance specialist at British Cycling 20 years ago, credited with helping to transform it into a team of serial winners thanks to the concept of 'marginal gains'.
"If you broke down everything you could think of that goes into riding a bike, and then improved it by 1%, you will get a significant increase when you put them all together," Brailsford told the BBC in 2012.
"There's fitness and conditioning, of course, but there are other things that might seem on the periphery, like sleeping in the right position, having the same pillow when you are away. They're tiny things but together it makes a big difference."
Not everyone believed in the theory.
In fact, Sir Bradley Wiggins has since described 'marginal gains' as "a load of rubbish".
But for many years it seemed to work spectacularly. Team GB cyclists won eight cycling golds at the London Olympics, matching the eight they had won four years earlier in Beijing.
Three cyclists won the BBC Sports Personality of the Year gong in five years, and Brailsford was seen as a genius, helping to turn Britain into a cycling nation.
In 2013, Brailsford left British Cycling to concentrate full-time on his leadership role at Team Sky, the British professional cycling team he had helped to found.
They became dominant, winning a staggering six of seven Tour de France titles between 2012 and 2018, with wins for team riders Chris Froome (four), Wiggins, and Geraint Thomas continuing the success Brailsford had enjoyed at the national governing body.
Since Ratcliffe took over Team Sky in 2019, such success has proved elusive, the Ineos Grenadiers failing to win a single Grand Tour since the Giro d'Italia in 2021.
That was the year Brailsford was asked to take on an elevated role overseeing the operations of the various sports teams Ineos either owned or sponsored.
In addition to acquiring one-third of Formula 1 team Mercedes, Ineos also owns French Ligue 1 football club Nice and Swiss team FC Lausanne, as well as the Ineos Britannia sailing team headed by Ben Ainslie. There is also a performance partnership with the New Zealand rugby team.
This summer, in a rare appearance during the Tour de France, Brailsford hinted at a new version of 'marginal gains', one which borrowed approaches from the various sports under the Ineos umbrella to improve performances.
"Take nutrition," he told ITV Sport. "You can take the best learnings from that, and shift it across into football or into the sailing team…
"It could be the data and analytics or strategic planning of the F1 team and bring it here [to cycling]. So there's a 'cross-pollination' of ideas… British Olympic sports, when I was part of that, did that ever so well. So to do that in a professional group of sports is exciting. I've been involved in that quite a lot."
When asked about the prospect of getting involved at Old Trafford, Brailsford said, "We'd very much like to do it. To be custodians of one of the biggest sporting teams and brands in the world, and try to support the team and fanbase.
"I know Manchester really well, and you get a sense of what the culture's all about and what the fans want."
Controversy, but Ratcliffe's 'full backing'
But for many, the 'marginal gains' theory Brailsford became synonymous with is now tainted.
As recently as August, doctor Richard Freeman – the former chief medic at both British Cycling and Team Sky – was banned from all sport for four years for violating anti-doping rules, in one of the most significant cheating scandals in British sporting history.
Brailsford, British Cycling, Team Sky and Team Ineos have always denied any wrongdoing, with Freeman described as having fallen short of the ethical standards required of him, but having acted alone. But this was merely the latest twist in a period of intense questions, suspicion and intrigue.
In 2018, Brailsford appeared before a parliamentary committee to answer questions on the contents of a mystery "jiffy bag" Freeman had instructed be delivered to Wiggins before a 2011 race, amid an allegation it contained the banned anti-inflammatory drug triamcinolone.
This followed the revelation Wiggins received therapeutic use exemptions (TUEs) for triamcinolone to treat asthma and allergies shortly before three major races.
Freeman and Brailsford maintained the bag contained legal flu medication, and ultimately a parliamentary committee said it was unable to determine what was inside the jiffy bag.
Brailsford admitted "badly" handling the crisis after providing initial explanations for the delivery to the Daily Mail that later turned out to be wrong. And his evidence to the select committee was described as "extraordinary" by the chair of UK Anti-Doping.
But in a final report in 2018, the MPs accused Team Sky of "crossing an ethical line" in its use of TUEs more broadly.
"Contrary to the testimony of David Brailsford in front of the committee, we believe that drugs were being used by Team Sky, within World Anti-Doping Agency rules, to enhance the performance of riders, and not just to treat medical need," its report concluded.
Team Sky issued a firm denial in response, along with Wiggins and Freeman, and reiterated their commitment to clean cycling.
But British Cycling, for so long the country's best-funded and respected sports governing body, was accused of a "serious failure" to keep basic medical records, a failure the report deemed "unprofessional and inexcusable". How did that tally with the sport's fabled attention to detail?
In 2021, Freeman was found guilty by a medical tribunal of ordering banned testosterone in 2011 "knowing or believing" it was to help dope an unnamed rider.
In her summing up, Freeman's lawyer had described Brailsford as "the spectre missing at these proceedings". The former Team Sky technical director Shane Sutton told the BBC it was "absolutely ludicrous" that "people are calling for Dave's head", and insisted neither he nor Brailsford had known anything about the testosterone.
But that did not stop the former shadow sports minister Clive Efford MP calling for Brailsford to be suspended, pending an investigation.
Such criticism has not deterred Ratcliffe, who said Brailsford retained his "full support."
"Your antenna starts pinging if you're uncomfortable about something" Ratcliffe told the Telegraph in 2021. "My antenna doesn't start pinging when I'm chatting to Dave. Quite the opposite."
Can he restore United after a decade of decline?
Since then, Brailsford has become a familiar presence alongside British billionaire Ratcliffe. In March, the pair were part of the Ineos delegation that toured Old Trafford during United's year-long takeover saga.
For some fans, the prospect of Brailsford's prospective role at United has echoes of former England rugby coach Sir Clive Woodward's infamous spell as technical director at Southampton in 2005-06.
More recently, Todd Boehly's struggles as co-owner of Chelsea, despite his stellar reputation in US baseball, serve as another reminder of the unique challenge English football can pose to outsiders.
But others will be excited to see what difference Brailsford can make to recruitment and scouting, strategy, culture and sports science at a club regarded as under-performing, especially as there are signs of the difference he can make in the sport.
Brailsford conducted an audit at Nice in 2021, which was followed shortly after by the departure of the club's director of football Julien Fournier and CEO Bob Ratcliffe, Sir Jim's brother.
This led to Brailsford having a greater hand in recruitment than originally anticipated, with former Premier League players Aaron Ramsey, Ross Barkley and Nicolas Pepe among those he helped bring to the club in 2022 having hired controversial former Cardiff City and Crystal Palace director Iain Moody as a transfer consultant.
The following season, the club dropped to ninth place in the league, down from fifth the year before. However, there are signs this season that Nice are on track to achieve Champions League football – one of the main aims expressed by Ineos.
After a period of upheaval, they are currently second in the league under young coach Francesco Farioli – who Brailsford helped to recruit – one point behind Paris St-Germain and unbeaten after 12 games played.
Despite the controversy attached to his time in cycling, Brailsford continues to command significant respect as a guru of performance and innovation, and remains in demand.
Last year it emerged he was under consideration for a role in the ECB's high-performance team.
"One of the greatest winners of our generation" was how he was introduced during an appearance on the 'Diary of a CEO' podcast in January 2022.
During the interview, Brailsford spoke about how he got "super-excited about wanting to do big, bold ambitious things. And then afterwards I think 'ah, wow, what have I done? Now I've got to make it happen…let's get after it'. That drives me."
It does not get much more ambitious than trying to restore the fortunes of Manchester United after a decade of decline.


Premier League predictions: Chris Sutton v CBeebies presenter and Robin Hood star Rhys Stephenson

Aston Villa have won their past 13 Premier League home games, but will they make it 14 in a row against defending champions Manchester City on Wednesday?
BBC Sport football expert Chris Sutton said: "Villa just seem to be a different proposition at home, but I think you write City off at your peril.
"They were sloppy defensively against Tottenham on Sunday, but they are still extremely dangerous when they attack."
Sutton is making predictions for all 380 Premier League matches again this season, against a variety of guests.
For this week's midweek games, he takes on CBeebies presenter Rhys Stephenson, who supports Arsenal.
You can see Rhys on the big screen in the new CBeebies Christmas Panto, Robin Hood, which is in UK cinemas now and features your favourite CBeebies stars.
Stephenson grew up supporting Arsenal but it would have been a different story if he had followed in his father's footsteps.
He told BBC Sport: "I was indoctrinated as a kid. My friends told me I supported Arsenal and I just took it with me for the rest of my life.
"My dad is actually Chelsea fan but ne never pushed on me who I should support so my friends got there first. I came home one day and told him I was an Arsenal fan now, and have been ever since.
"Now I live in Salford and I am used to being asked who I support. I've learned to say 'I'm a Red… but the wrong kind of Red'… and they usually say something along the lines of 'well, as long as you're not a City fan, that's fine.
"We're doing well at the moment but I think the end of last season, when we played City and things went wrong after that, showed why we shouldn't get carried away just yet.
"It's great to be top of the table but I think the attitude of most Arsenal fans is very British in that we won't get excited about anything until it is over. It's a case of so far, so good… but I am just going to wait to see how things work out."
Chris Sutton and Rhys Stephenson were speaking to BBC Sport's Chris Bevan.
When?

Result

Sutton

Rhys

TUESDAY, 5 DECEMBER

Wolves v Burnley

x-x

2-0

1-0

Luton v Arsenal

x-x

0-2

1-3

WEDNESDAY, 6 DECEMBER

Brighton v Brentford

x-x

2-2

2-1

Crystal Palace v Bournemouth

x-x

1-0

1-1

Fulham v Nott'm Forest

x-x

1-1

1-0

Sheff Utd v Liverpool

x-x

0-3

0-3

Aston Villa v Man City

x-x

1-2

2-2

Man Utd v Chelsea

x-x

1-2

3-4

THURSDAY, 7 DECEMBER

Everton v Newcastle

x-x

1-2

0-2

Tottenham v West Ham

x-x

3-2

0-1
A correct result (picking a win, draw or defeat) is worth 10 points. The exact score earns 40 points.
SUTTON'S PREDICTIONS
TUESDAY, 5 DECEMBER
Wolves v Burnley (19:30)
Burnley will be full of confidence after their brilliant – and much-needed – win over relegation rivals Sheffield United.
They will be looking to bring Wolves into the battle at the bottom too, but Gary O'Neil's side still have some breathing space over the drop zone despite three defeats in their past four games.
I also think Wolves will be too streetwise for the Clarets, especially at Molineux, which is why I am going for a home win.
Sutton's prediction: 2-0
Rhys' prediction: 1-0
Luton v Arsenal (20:15)
Arsenal have been much more pragmatic so far than they were last season and have not hit the same heights with their attacking play, but it is working for them.
We know how spirited Luton are at home but the way Mikel Arteta's side are playing at the moment, I just expect them to find a way to win.
Historically, the Gunners used to struggle at Kenilworth Road when Luton were in the top-flight in the late 1980s and early 1990s, and they have not won there since January 1984, but that long wait for a victory should soon be over.
Sutton's prediction: 0-2
Rhys' prediction: Of course I am going to back my team here… but Luton might be in the game for a little while though, so it's not going to be easy for us. 1-3
WEDNESDAY, 6 DECEMBER
Brighton v Brentford (19:30)
Brighton have only won won of their eight league matches and Sunday's defeat by Chelsea must have been very frustrating after the Blues went down to 10 men just before half-time.
This could be another awkward game for the Seagulls too. Brentford took four points from Brighton last season and I can see them making life difficult for Roberto de Zerbi's team again.
The Bees will sit in and counter-attack well, and I can see them getting some reward.
Sutton's prediction: 2-2
Rhys' prediction: This could be a really good game, because both teams might think they can win it and go for it a bit more. My head says a draw, but my heart says it will be a bit more exciting than that, with Brighton scoring a late winner. 2-1
Crystal Palace v Bournemouth (19:30)
The way Bournemouth have picked up has surprised me a little bit, but they are carrying more of an attacking threat and it is paying off.
I am tempted to say the Cherries can keep their run going with a point at Selhurst Park, but I have a feeling Crystal Palace will end their poor run, and edge what should be a very tight game. I am just not 100% sure why.
Sutton's prediction: 1-0
Rhys' prediction: This one feels like a draw to me, which would be a better result for Bournemouth. 1-1
Fulham v Nottingham Forest (19:30)
Fulham were unlucky to leave Anfield empty-handed on Sunday after being ahead so late on, and they looked much brighter up front. Maybe they have finally come to terms with Aleksandar Mitrovic's departure, because they have started to score goals again.
It is three defeats in a row now for Nottingham Forest and the noise around the future of their manager Steve Cooper won't go away until their results improve, no matter how unfair that seems.
These two teams are next to each other in the bottom half of the table, so you would expect this game to be close and I actually think they will end up sharing the points.
Sutton's prediction: 1-1
Rhys' prediction: I am going to give this one to Fulham. It's a bit like Brighton v Brentford with two teams near each other in the table, but both these sides are closer to the relegation zone so things might be a bit more tense. 1-0
Sheff Utd v Liverpool (19:30)
Paul Heckingbottom's departure as Sheffield United manager appears to be imminent, and it will not exactly be surprising to see him go after their past couple of results against Bournemouth and Burnley.
A new voice always makes the first game after a change of manager really interesting but, whether or not Chris Wilder gets the job, I don't see it making much difference for the Blades here, because what worries me is how brittle they are at the back.
Liverpool did amazingly well to come back to beat Fulham on Sunday and they are right in the thick of the title race now. This should be a much more straightforward victory for Jurgen Klopp's side, who have got the firepower to win comfortably.
Sutton's prediction: 0-3
Rhys' prediction: Liverpool's away form isn't always that convincing but I don't see them struggling here. 0-3
Aston Villa v Manchester City (20:15)
It has been surprising to see Manchester City conceding so many goals recently – they have shipped 10 in their past four games – and I do think Villa will score here, but I'd still back Pep Guardiola's side to score more.
It's a blow for City to be without suspended duo Rodri and Jack Grealish, but I am certainly not going to start doubting them.
They might be playing with a bit of anger after feeling wronged by the decision not to let them play an advantage right at the end of Sunday's draw with Tottenham, even if I do think too much was made out of that incident.
The referee was wrong to stop play, but I think the Spurs defence would have caught Grealish anyway.
Sutton's prediction: 1-2
Rhys' prediction: Villa have been awesome at home and I think they will really push City here. 2-2
Manchester United v Chelsea (20:15)
Manchester United were woeful at St James' Park on Saturday and it looked like some of their players couldn't be bothered.
Before the game, Manchester United boss Erik ten Hag was saying how Newcastle United had an extra day to prepare after their Champions League game in midweek, which I don't think was a great message to put out, but he ended up being let down badly by some of his players.
They weren't prepared to run, while Newcastle ran all over them and should have won by more than 1-0.
I am sure we will see more effort here, in front of their own fans, but I think we have to remember where Manchester United are at – they are seventh, but none of their eight league wins this season have come against sides in the top half of the table.
So, I think this game is definitely winnable for Chelsea, even though they remain very inconsistent. They looked a bit better organised in their win over Brighton and I can see them causing Ten Hag's problems at the back.
Sutton's prediction: 1-2
Rhys' prediction: I am going with some goals here. You can never be too sure whether Chelsea will turn up but I think they will be good in this one – they've done pretty well against the bigger sides. 3-4
THURSDAY, 7 DECEMBER
Everton v Newcastle (19:30)
This should be a really good game. between two teams who will throw everything at it.
Everton's home form is not great, but they have total belief in their approach under Sean Dyche and they play like they share the same cause.
But Newcastle's unity is also great to see – they are all in with Eddie Howe and fully invested in his playing style as well.
I was tempted to go for a draw but with former Everton winger Anthony Gordon going back to Goodison Park, I have a sneaky feeling he might make the difference.
Sutton's prediction: 1-2
Rhys' prediction: Everton will be up for this but Newcastle are playing really well. 0-2
Tottenham v West Ham (20:15)
This is a tricky game for Spurs because their manager Ange Postecoglou likes going toe to toe with teams and West Ham boss David Moyes just won't let that happen.
The Hammers beat Brighton in September with only 22% possession and they would obviously be very happy to try for a repeat of that here. They will defend very deep, and look to spring forward.
There will come a time when Spurs blow away a team or two with the way that they play, but I am not convinced that will happen here. I do think they will beat West Ham, but I don't think it will be a straightforward victory.
Sutton's prediction: 3-2
Rhys' prediction: I just have a feeling that West Ham can do this. Their defence can keep Spurs at bay, and then nick a winner. 0-1
How did Sutton do last time?
A strong week for Chris, who overpowered wrestler AEW wrestler Claudio Castagnoli.
Chris got eight correct results from 10 matches in week 14, with three exact scores, giving him a total of 170 points.
Claudio managed four correct results, with no exact scores, giving him 40 points.
Anthony Joshua

150

Eddie Hearn

130

Barry Can't Swim

110

Anish Kumar

100

Fabian Edwards, Joelah from 1Xtra, KSI, Midas the Jagaban

90

Chris Sutton
88 (average after 14 weeks)

David Earl, Keke from 1Xtra, Jazzie Zonzolo

70

Tommy Fury, Joe from Nothing But Thieves

60

Gabe of Jamie Johnson FC, Tash from The Football Academy

50

AEW wrestler Claudio Castagnoli. Tom Ogden and Joe Donovan from Blossoms

40

Willie J Healey

20

Suggs

10
Chris Sutton

1,230

Guests

1,070
How did you get on?
Tottenham's draw at Etihad Stadium was one of the results that caught you out – 76% of you went for a City win – and so was Everton's victory at Nottingham Forest, although that was much closer.
While 30% of you did go for a Toffees success, 40% of you backed Forest to triumph.
1. Chris

8/10

2. You

6/10

3. Guest

4/10
*Win, draw, loss prediction based on highest % of vote for each match.
1. You

81/140

2. Chris

78/140

3. Guests

71/140