Tour d'horizon SWPL: les Rangers battent Partick Thistle pour poursuivre la course au titre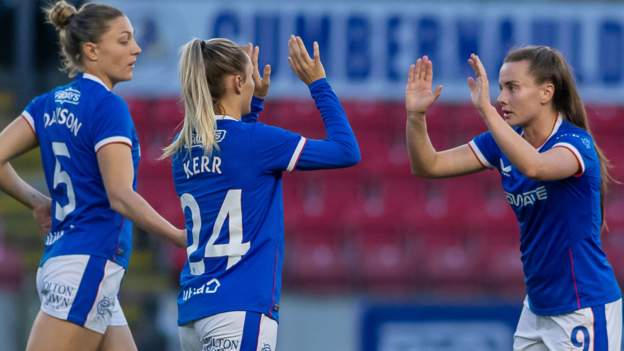 Les Rangers ont maintenu leurs espoirs de défendre le titre de la Scottish Women's Premier League avec une victoire 3-0 contre Partick Thistle.
La tête de Lizzie Arnot juste avant la mi-temps a brisé la résistance de Thistle, avant que Kirsty Howat puis le penalty de Tessel Middag ne tuent le match.
Cette victoire place les Rangers au deuxième rang, trois points devant leurs rivaux Celtic et deux derrière les leaders Glasgow City.
Ces équipes se rencontreront au Celtic Park jeudi alors que la course au titre se réchauffe.
Les Rangers ont maintenant joué un match de plus que leurs deux rivaux et affrontent City le dernier jour de la saison, avec un voyage pour affronter Hearts pour arriver premier dimanche.
Hearts, ayant déjà obtenu la quatrième place, a battu son rival d'Édimbourg Hibernian 2-1 à Oriam.
Erin Rennie a transformé la réduction de Monica Forsyth pour donner l'avantage à l'équipe d'Eva Olid, et l'étourdissant à longue portée d'Aimee Anderson a doublé son avantage avant la pause.
Katie Lockwood a renvoyé Hibs de la tête dans le match et Siobhan Hunter a failli égaliser dans les arrêts de jeu, mais un arrêt fantastique de la gardienne Charlotte Parker-Smith a assuré la victoire de Hearts.
Pendant ce temps, dans les six derniers, Aberdeen a assuré son statut de premier plan pour une autre saison avec une victoire spectaculaire 1-0 sur Dundee United au stade Balmoral.
La frappe dans le temps d'arrêt de Bayley Hutchison place les Dons à sept points d'avance sur Hamilton dans le barrage de relégation, et cinq devant United, qui est 10e et regarde toujours par-dessus ses épaules.
Hamilton n'a pas pu capitaliser sur la chute de ses rivaux les plus proches, car ils ont perdu 4-2 contre les Spartans, septièmes.
Les buts de Hannah Jordan et Louise Mason se sont ajoutés aux frappes précédentes de Becky Galbraith et Simone McMahon après que Lucy Sinclair l'ait brièvement ramené à 2-1.
MT Gardiner a ajouté une consolation tardive pour Accies mais ils restent à la 11e place, à deux points de United, qu'ils affrontent le dernier jour de la campagne.
Les Glasgow Women, déjà reléguées, ont été battues 3-0 par Motherwell mardi soir.
Lia Walti: Arsenal midfielder is focused on stopping Chelsea and Emma Hayes on Sunday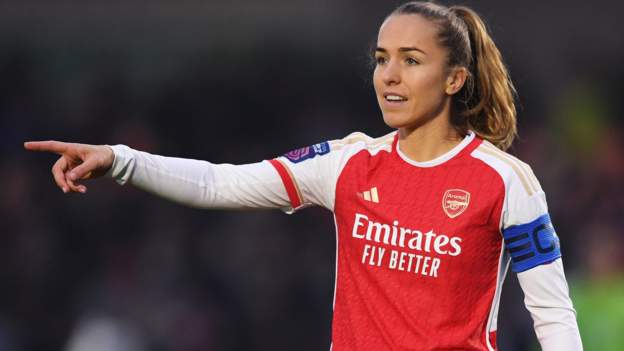 Arsenal last won the Women's Super League title in 2019 with Chelsea having dominated the competition in recent years.
Since Arsenal's triumph, the league has not been won by more than a two-point margin, meaning matches between title challengers can often make all the difference.
Arsenal have felt that pain, missing out by a point in 2021-22 despite beating Chelsea at home on the opening day and coming away with a draw at Kingsmeadow later in the campaign.
So as the WSL's top two teams go head-to-head again on Sunday at Emirates Stadium, live on BBC Two from 12:15 GMT, Arsenal know this could have a significant impact on the standings in five months' time.
"The entire season is still very young, but we all know these games can make the difference in the end," said Arsenal midfielder Lia Walti.
"We have done well with results against Manchester City and Manchester United – but it's going to be an even bigger game against Chelsea.
"Firstly, they are three points ahead of us. Secondly, it's Chelsea and Arsenal. You can't really get much bigger and from the games we've had in the past, they were pretty tight.
"We all know about Chelsea's strengths. They're a great team with a great coach, who always sets them up well in the top games.
"But we are close in every game against them. It doesn't really matter what was in the past. We're here to win every day."
'We don't want her to finish on a high'
Arsenal sit three points below Chelsea following defeat by Liverpool and a draw away at Manchester United in September.
But the Gunners have since been in good form – ending Manchester City's unbeaten run with an 87th-minute winner in November as part of an impressive six-match winning streak in the WSL.
The league is wide open after eight matches with 10 points separating leaders Chelsea and sixth-placed Tottenham.
"It's great for fans of the league that it's such a tight race at the top of the table – or technically in the whole league. A lot of teams are able to steal some points from each other," added Walti.
"To be in the middle of [the title race] is a lot of pressure. But pressure is part of our job. It can also be really nice. If you end up winning these games, it feels even better than if it wasn't so tight.
"In the past it was maybe fun because you knew you were probably going to win trophies, but I think it means so much more if you win trophies right now because you know how good the competition is."
Arsenal's task is to end Chelsea's dominance and spoil the party for opposing manager Emma Hayes, who will take over the USA women's national team in May, ending an 11-year spell with the Blues.
"Emma [Hayes] has done so much for women's football in the English League, not only for Chelsea. She has been huge and obviously we all have the biggest respect for what she [has done]," said Walti.
"But we also don't want her to finish this year on a high. We're here to compete with Chelsea. We are here to win trophies and we're not going to be nicer to them just because it's Emma's last year, that's for sure.
"I hope we can make it a little bit harder for her to finish on a high."
'We never had so many options'
Just a few months ago, there were doubts about whether Arsenal could sustain a title challenge.
They had picked up just a point from their opening two matches and were knocked out of the Women's Champions League in the qualifying rounds despite signing several top players in the transfer window.
Manager Jonas Eidevall came under pressure but Arsenal acted swiftly, offering him a new contract and confirming their trust in him.
"In football you can't only just win. There are moments where things don't go right. To then feel the support of the club, or of the players, is obviously going to give you confidence back," said Walti.
"I think the most negative thing in moments like that, would be if you don't get confidence, if you don't get trust, if you work against each other. In that moment, it was a strong sign by the club to commit to our coach.
"We're now in a really good momentum. I'm happy that the club decided to keep him here. I think we keep growing under him, and we have a lot more to come."
As well as reaping the rewards for showing faith in Eidevall, Arsenal's recruitment in the summer is now proving to be successful.
Defenders Amanda Ilestedt and Laia Codina, forwards Cloe Lacasse and Alessia Russo, as well as midfielder Kyra Cooney-Cross, have all started to make their marks.
"We never had so many options attacking-wise as we have this season and it's absolutely great because none of them are the same – they all bring such different qualities to the team," added the Switzerland international.
"We've had multiple examples this season where we've brought on our bench players and they changed the game for us. It's amazing to have that competition [which will] only make you stronger as a player.
"I do think it's going to be a huge difference for us this season to have options on the bench."