Valerien Ismael: Watford nomme l'ancien patron de Barnsley et West Brom comme nouvel entraîneur-chef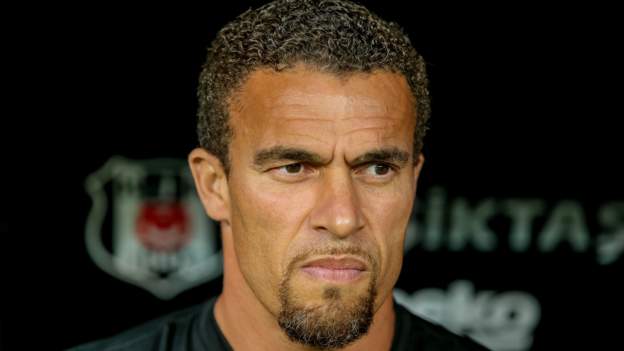 Watford a nommé l'ancien patron de Barnsley et West Brom, Valerien Ismael, comme nouvel entraîneur-chef.
Le joueur de 47 ans remplace Chris Wilder, nommé en mars pour un contrat à court terme jusqu'à la fin de la saison.
Sous Wilder, les Hornets ont terminé 11e du championnat, à six points des places de barrage.
Ismael était le plus récemment avec le club turc Besiktas, ayant été nommé par eux juste un mois après avoir été limogé par West Brom en février 2022.
"Pouvoir nommer un nouvel entraîneur si tôt en mai signifie que nous pouvons très bien préparer ensemble la saison prochaine", a déclaré le directeur technique de Watford, Ben Manga.
"Pouvoir accueillir quelqu'un de l'expérience de Valérien à Watford est une bonne nouvelle pour notre club. Nous avons tous hâte de travailler avec lui."
Ismael a quitté les Hawthorns avec le club cinquième du championnat, après seulement huit mois à la tête.
Le Français a pris la relève après la relégation du club de la Premier League en 2021, après avoir conclu un contrat de quatre ans.
Il a remporté quatre de ses cinq premiers matchs en charge, mais seulement huit des 24 suivants et certains les fans ont critiqué son style de jeu préféré.
Son approche s'est avérée fructueuse à Barnsley, où il a été nommé à l'automne 2020 et les a conduits aux barrages de deuxième niveau avant perdant au total contre Swansea City.
L'ancien défenseur Ismael a joué en Premier League pour Crystal Palace en 1997-98 et sa carrière d'entraîneur a également inclus des séjours dans des clubs en Allemagne, en Grèce et en Autriche.
Il est le 10e entraîneur-chef de Watford depuis 2018 et le septième depuis la fin de la saison 2020-21.
Depuis que Sean Dyche a quitté Vicarage Road en 2012, Gianfranco Zola, Giuseppe Sannino, Oscar Garcia, Slavisa Jokanovic, Quique Sanchez Flores, Walter Mazzarri, Marco Silva, Javi Gracia, Nigel Pearson, Vladimir Ivic, Xisco Munoz, Claudio Ranieri, Roy Hodgson, Rob Edwards, Slaven Bilic et Wilder ont tous eu des sorts en charge.
Scotland 0-6 England: Beth Mead says England are 'devastated' after missing out on the Nations League finals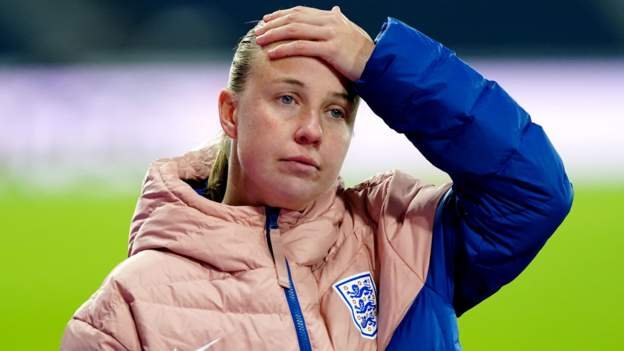 Beth Mead said England are "devastated" while manager Sarina Wiegman said it "really hurts" after her side agonisingly missed out on a place in the Women's Nations League finals on goal difference.
England's game had finished when the Netherlands scored their decisive fourth goal in the 95th minute, ending the Lionesses' Nations League campaign and also meaning Team GB will not be in the Paris 2024 Olympics football competition.
"We thought we'd got over the line but it wasn't to be," Mead told BBC Sport.
England needed to better the Netherlands' result by three clear goals to reach the Nations League finals and keep Olympic hopes alive, as the nominated nation to qualify on behalf of Team GB.
In the end, both England and the Dutch finished on 12 points in Group A1, with the Netherlands advancing because of a superior goal difference of plus eight. England finished with plus seven.
"We're devastated. We did everything we possibly could on the pitch," said Mead.
"It's a tough one. The girls have worked incredibly hard. We let ourselves down maybe earlier in the competition."
Wiegman, who oversaw a 30-match unbeaten run when she first took charge of the Lionesses, said she was "proud" of the performance but "gutted" not to get over the line.
"We scored six goals, and we were so close. In the dying seconds the Netherlands scored a goal, you can't control that," she said.
'I thought it was going to happen for us'
When Lucy Bronze's header hit the back of the net in the 93rd minute at Hampden Park – England's sixth goal – Wiegman said she thought her side had secured their progression to the finals and the noise from a pocket of fans inside the stadium echoed that feeling.
Alex Greenwood had opened the scoring before goals from Lauren James, Beth Mead and Fran Kirby put the finals in sight.
But the elation of Bronze's sixth was quickly forgotten as the players gathered in a huddle at full-time and discovered the news that the Netherlands had scored a fourth to end Team GB's Olympic dream.
"It was about two minutes I think but they took forever," said Wiegman. "I did think actually that as they [Netherlands] had just scored the third goal, in extra time just as we scored, that wow, it's going to happen for us. I really thought that.
"I actually don't know what to say because I'm really proud of this performance but we're not through and I'm very disappointed."
'Players are not robots'
Mistakes earlier in the campaign have ultimately proved costly for England with the 3-2 loss to Belgium in October giving them an uphill task for these December fixtures.
Another loss away to the Netherlands despite periods of dominance was also key and even just one more goal in their 3-2 win over the Dutch on Friday would have put qualification in England's hands this week.
"This is part of football, it's not easy to keep performing, we need a high level and sometimes it dropped," said Wiegman.
"After the Belgium game we had a very good camp, because the result against Belgium was not related to how we trained as a team."
But while the players will undoubtedly reflect on this campaign as a missed opportunity and feel disappointed to miss out on another chance to win a title, a hectic schedule in recent years means they may also be thankful for the rest.
"On the back of the World Cup going again, having injuries, being unlucky at moments and pushing ourselves," said Wiegman.
"Hardly any rest and going again. We conceded in September, players were tired, some more injuries, but we were building and building."
England won the Euros in 2022 before reaching a historic World Cup final this summer and fatigue and injuries have clearly been factors in what has ultimately been a difficult campaign.
"Of course it hurts because you want to be in major tournaments and we wanted to win the Nations League group but if you see the bigger picture, what we have done over the last say two and a half years," said Wiegman.
England have also missed key players Mead, Kirby and Leah Williamson through serious injuries, with captain Millie Bright also missing the latter stages of the Nations League campaign through injury.
"You want to go to every major tournament so every player wants that," said Wiegman.
"But in the bigger picture we have to look at the calendar and think that the players are not robots and they need some rest too, that's very obvious."